Joseph Beuys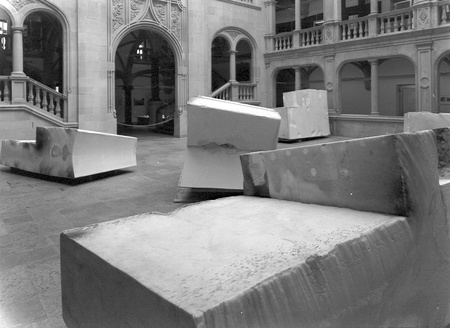 Unschlitt/Tallow (Wärmeskulptur auf Zeit hin angelegt) [Heat Sculpture Designed for Long-term Use]
1977
Cast wedge-shaped sculpture, randomly cut into six segments
Stearin, tallow, Chromel-Alumel thermocouples with compensating cables, digital millivoltmeter, alternating current transformer
Total length: 955 cm; height: 195 cm; width: 306 cm
Location
Atrium of the Landesmuseum.
Temporary installation until October 1978
Due to unforseen complications in the production process the work could not be shown before mid September 1977.
Owner
Now owned by the Marx Collection and on permanent loan to the Museum Hamburger Bahnhof, Berlin
Joseph Beuys
* 1921 in Krefeld, Germany
† 1986 in Düsseldorf, Germany
Joseph Beuys found a unused, wedge-shaped space between the pedestrian underpass to the Schlossplatz (which was called Hindenburgplatz until 2012) and the ramp of a university lecture hall. His original plan was to fill the dead space with beeswax, but this project could not be carried out for financial and organisational reasons. Instead, he had the space precisely reconstructed and made a cast of it, using a mixture of 23 parts of stearin to one part beef tallow. He then had the almost 10-metre-long wedge randomly cut into pieces and presented these in the atrium of the Landesmuseum.
Among the materials Beuys frequently employed in his artworks were honey, beeswax, fat, felt and copper. The symbolism of his sculptures was largely drawn from the origins of these materials and their history of human use, as well as from their specific physical properties and sensuous qualities. For example, bees use wax to create the hexagonal honeycomb structures that contain their larvae, while tallow was used in the past to help wounds heal. Recalling pieces of human tissue, the slowly cooling tallow blocks in the atrium of the Landesmuseum referred back to the inconspicuous, completely pointless cavity on the Schlossplatz. In this way, a dialogue was initiated between the aggregate states of warm/soft and cold/hard, organic/living and solidified/dead, between the chaotic and the crystalline. In accordance with Beuys' artistic concept, however, the actual sculpture manifested itself as what he called a "social sculpture", extending from the segmented wedge in the atrium of the Landesmuseum to the 'dirty corner' on the Schlossplatz.
Ferdinand Uptmoor
Location
Still existing / Public Collection
Removed
In the museum