Robert Filliou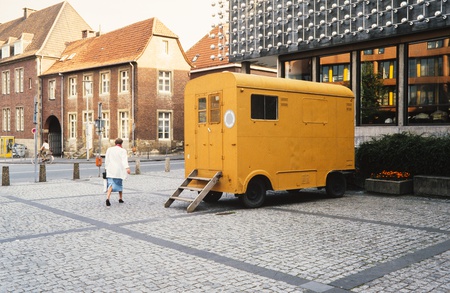 Permanent Creation – Tool Shed
1987
Installation
Contractor trailer with furnishings and two additionally mounted neon signs
Location
Square in front of the south façade of the former Westfälisches Landesmuseum, in the direction of Aegidiimarkt.
Temporary installation for the duration of Skulptur Projekte in Münster 1987
Robert Filliou
* 1926 in Sauve, France
† 1987 in Les Eyzies-de-Tayac-Sireuil, France
In 1987 Robert Filliou parked a twin-axle contractor trailer on the square between the former extension to the Westfälisches Landesmuseum für Kunst und Kulturgeschichte and Aegidiimarkt. He put up a sign on the trailer saying "Permanent Creation Tool Shed" and furnished its interior with tables, chairs and a radiator. The furnishings tallied with what is usually found in mobile rest facilities on building sites. Only the two blue-and-white illumined neon signs hanging on the inside walls with the words "innocence" and "imagination" departed from the familiar ambient.
"Innocence" and "imagination" were two crucial concepts for Filliou, a committed Buddhist who was considered part of the Fluxus movement. In Remscheid in 1969 he conceived the forerunner of this trailer when he modified an ordinary tool shed by adding these two illuminated signs to the walls. Filliou felt these two words were his most important tools, which is why he stored them there alongside the other tools. In 1984 he adapted the concept for a mobile version inside a construction trailer, which he showed in a similar form three years later in Münster.1 The tool shed and the building site container both symbolise the world as a space of material and mental creativity. With this Filliou did not mean any kind of aloof or highbrow prerogative reserved for art and the artist but as something far more comprehensive in tune with his own life philosophy, in which everyone participates in the process of "permanent creation", whether privately, at work or within society as a whole. The places where we act can in this context be as mobile as the trailer.2
Daniel Friedt
1 The first mobile version now belongs to Museum Ludwig in Cologne, inv. no. ML/SK 5162; cf. Rheinisches Bilderarchiv Köln, "Permanent Creation Tool Shed (Mobile Version)", accessible online at: www.kulturelles-erbe-koeln.de/documents/obj/05013998 (last accessed: 14.06.2017).
2 Cf. Georg Jappe, Skulptur Projekte in Münster 1987. Rundgang, Münster, 1987, p. 77.
Location
Still existing / Public Collection
Removed
In the museum