Guiseppe Penone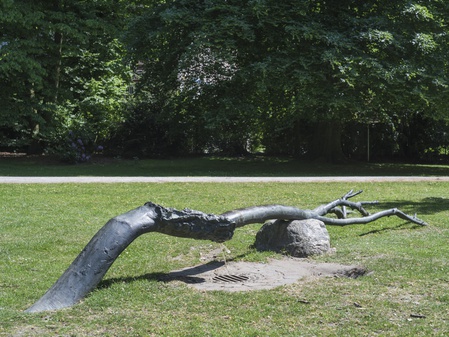 Progetto Pozzo di Münster [Fountain Project for Münster]
1987
Bronze, water, stones, well-shaft cover, fountain
Length: 7 m
Location
Corner of Karlstraße and Wemhoffstraße, the Hörster cemetery, 1987-1989 temporary installation, since 1996 permanent installation
Owner
LWL-Museum für Kunst und Kultur, Münster
Progetto Pozzo di Münster was stolen at the beginning of March 2022. The LWL-Museum für Kunst und Kultur, as the owner of the work, filed a criminal report. Unfortunately, the police investigations did not lead to any result. The infrastructure of the fountain was subsequently dismantled by the LWL-Museum für Kunst und Kultur in the end of 2022.
For further information please see the press release
Guiseppe Penone
* 1947 in Garessio, Italy
Lives and works in Turin, Italy, and Paris, France
As a representative of Arte Povera, Italian artist Giuseppe Penone has always addressed the connection between man and nature and their processes of growth and decay in his installations and objects. In 1968 he devoted a work, Continuerà a crescere tranne che in quel punto [It Will Continue to Grow Except at That Point], to this subject for the first time. For this installation the artist produced a bronze cast of his own hand, as it would be if grasping a tree trunk. He attached the cast, an alien body, to the trunk of a young tree, which it would thereafter be forced to grow around.
The tree remains a leitmotif in Penone's work which he also returned to for Fountain Project for Münster. At the Hörster cemetery, now a park, a crooked, seven metre long bough lies on a grassy lawn, supported by a stone. As if by chance, a cobblestone edged gully is located under the bough. On closer inspection the bough reveals itself to be a bronze from which water flows. However, the water does not simply gush from the bough's innards arbitrarily, but flows instead from the impression of a handprint in the bronze. Springing from its five fingers, it accumulates in the palm, and then continues to run along the imprint of a forearm until it finally disappears into the hole in the ground. It is collected there and pumped from deep underground through a well-shaft which was specifically drilled for the work, back to the bough, resulting in a circular flow. Penone described the process as follows: "It is water that has flown underground and knows the secrets of the Earth."1

Konstanze Klecha
1 Giuseppe Penone. In: Klaus Bußmann and Kasper König (eds.), Skulptur. Projekte in Münster 1987, exhib. cat.: Westfälisches Landesmuseum für Kunst und Kulturgeschichte, Münster, Cologne 1987, 218.
Location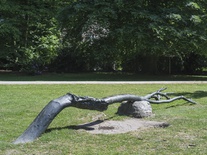 Guiseppe Penone
Progetto Pozzo di Münster [Fountain Project for Münster]
None
Still existing / Public Collection
Removed
In the museum