Dennis Adams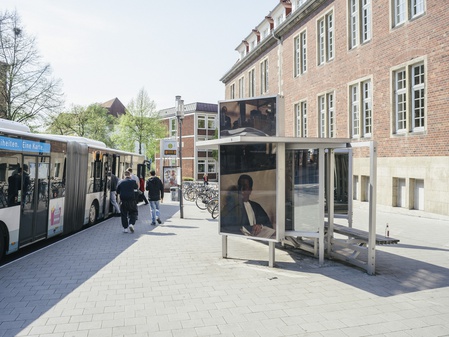 Bus Shelter IV
1987
Aluminium, wood, acrylic glass, two-way mirror glass, photographs, fluorescent tubes
3 x 4.65 x 3.1 m
Location
1987–1992 bus stop on Domplatz
Since 1998 bus stop at Aegidiimarkt A / LWL-Museum, Johannisstraße, permanent installation
Owner
LWL-Museum für Kunst und Kultur, Münster
Dennis Adams
* 1948 in Des Moines, USA
lives and works in New York, USA
In his site-specific installations in public spaces, Dennis Adams frequently combines photography and architecture, developing such functional objects as kiosks. In 1983, the work Bus Shelter I initiated a series of bus stops. This architectural structure serves Adams as a formal frame for the display of fragments extracted from collective visual memory and an examination of the perception of historic events filtered through the media.1
This is also the case for the work Bus Shelter IV, which Adams conceived for the Skulptur Projekte in Münster 1987. The multi-panelled bus shelter resembles the construction of a conventional bus stop, with the exception that benches have been attached to both the front and rear side. At both ends of the parallel seating there are large-scale light boxes, displaying a photograph on each side. The shelter's dividing walls constructed of semi-transparent mirrors and positioned at an angle reflect the light boxes' imagery. These are not – as would normally be the case – colourful and seductive advertising images, but photographs referring to the Nazi era in Germany and its attempts to come to terms with this history.
In his work Adams recalls an event that was then current in the summer of 1987: the photographs facing outwards show, in the foreground, the lawyer Jacques Vergès in France, representing in court the SS war criminal Klaus Barbie who is sitting behind him. The two images facing inwards show an enlarged detail of this photograph: a spectator in the background. Adams' work invades our familiar surroundings; the reflecting glass panels, functioning as diffuse mirrors, question the spectators' relationship to both the city and German history.
Adams initially installed Bus Shelter IV on Domplatz, opposite the then main entrance to the Westfälisches Landesmuseum. In 1992 the work went to the New York gallery Kent Fine Art, however in 1999 it was acquired by the LWL-Museum für Kunst und Kultur. Today Bus Shelter IV is installed at the Aegidiimarkt A / LWL-Museum, Johannisstraße bus stop, in the vicinity of the new entrance to the museum which since 2014 is located to the south.

Konstanze Klecha
1 Klaus Bußmann and Kasper König (eds.), Skulptur Projekte in Münster 1987, exhib. cat.: Westfälisches Landesmuseum für Kunst und Kulturgeschichte, Münster, Cologne 1987, 19–22.
Location
Still existing / Public Collection
Removed
In the museum