Stephan Balkenhol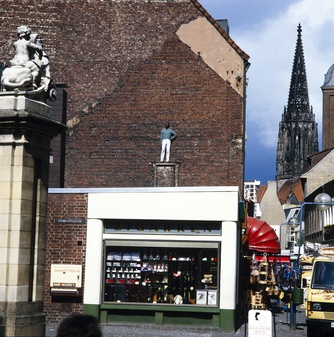 Mann mit grünem Hemd und weißer Hose [Man in a Green Shirt and White Trousers]
1987
Sculpture in coloured concrete, height 200 cm
Location
5 m above the ground fixed to a chimney breast protruding from the east-facing firewall of the house at Salzstraße 40 (since 1990 this wall has abutted directly onto a new multi-storey building). Temporary installation from June 1987 until June 1989
Owner
Kunstverein Bremerhaven (currently installed on the outer façade of Kunsthalle Bremerhaven)
Stephan Balkenhol
* 1957 in Fritzlar, Germany
lives and works in Karlsruhe, Kassel and Berlin, Germany, as well as in Meisenthal, France
In 1987 Stephan Balkenhol placed the standing figure Man in a Green Shirt and White Trousers on the ledge of a chimney breast protruding from the bare wall of a historic building in the centre of Münster. The slim figure with short dark hair had his arm propped casually on his hip. With a blank, self-engrossed expression the figure seemed to be surveying the bustle on the Salzstraße. Only those who cast their gaze upwards would have spotted the second of the two sculptures Balkenhol had hitherto presented in an outdoor location.
His choice of location could be seen as a repudiation of traditional façade sculpture. In a broad range of variations – as reliefs or full body sculptures – this sculptural tradition demonstratively embellishes the ostentatious showcase façades of buildings and emphasises the representative character of their principal faces. Balkenhol cast a critical light on this form of purely decorative, and occasionally arbitrary, use of art on buildings, squares and thoroughfares, like the ones found in inner-city shopping districts. In contrast he declared that he was developing the "right" sculpture for the "right" place – locations that came into question exuded a spatial longing for an intense dialogue with art.1 Balkenhol did not elaborate any further on this dialogue; rather, all further deliberations on the subjects he prompted, such as sculpture, location, perception and interpretation, he preferred to leave to the audience.
Daniel Friedt
1 "Statements von Künstlern – Stephan Balkenhol (Textfassung eines Gesprächs vom 22. Februar 1989)", in: Volker Plagemann, (ed.), Kunst im öffentlichen Raum. Anstöße der 80er Jahre, Cologne, 1989, 260.
Location
Still existing / Public Collection
Removed
In the museum