Scott Burton
Pair of Park Benches. Designed for Münster in 1986
1987
Sculpture, painted wood, each 102 x 878 cm; seat: 51 x 517 cm
Location
Park at Engelenschanze. Temporary installation for the duration of the exhibition.
After the exhibition erected at Warendorfer Str. 22–24, but since removed due to their poor state of preservation
Sandstone furniture (a set of prototypes). Designed 1986–87
1986/1987
Sculpture, red sandstone; table: 72 x 142 x 142 cm, two chairs: each 86.5 x 59.5 x 99.5 cm, bench: 51.5 x 99.5 x 60 cm
Location
Foyer of the Westfälisches Landesmuseum.
Temporary installation for the duration of the exhibition.
Scott Burton
* 1939 in Greensboro, Alabama, USA
† 1989 in New York City, New York, USA
Inspired by a visit to Henry van de Velde's Hohenhof villa in Hagen, Scott Burton designed two elegantly curved benches that in 1987 were installed facing each other in the park at Engelenschanze.1 Each fence-like structure was painted white and incorporated a smaller seat of dark wood, which conveyed an impression of lightness. Taking a tree as their point of departure, the benches opened out, tracing the contours of an oval. They thereby established correspondences with the paths crossing the park as well as with the structure of a nearby building and a climbing frame in a playground.
Burton also designed a table, two chairs and a bench for the foyer of the Westfälisches Landesmuseum. The block-like, heavy-looking set of furniture was made of Baumberg sandstone, Münster's traditional local building material.
Similar to the works of his friend and colleague Siah Armajani, who created his Study Garden in Münster this same year, with his objects Burton blurs the boundaries between furniture and sculpture, between applied and fine art, and between display and utility value. The sobriety of their appearance, based on a minimalist repertoire of forms, is counteracted by their practical usefulness and social dimension. Just as Burton's sculptures reference their surroundings in their shape and material, they reflect the artist's interest in combining art with design and social issues. Associated with reduced physical activity such as sitting or lying down, they can be experienced at a tactile level that goes beyond pure visual contemplation. Burton opposes an autonomy of art, whose elitist isolation he regularly criticised.
Andreas Prinzing
1 Scott Burton, "Pair of Park Benches. Designed in 1986 for Münster", in: Klaus Bußmann and Kasper König (eds.), Skulptur Projekte in Münster 1987, exh. cat.: Westfälisches Landesmuseum für Kunst und Kulturgeschichte, Münster, Cologne 1987, 58f.
Location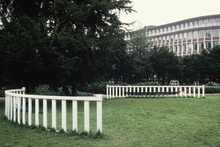 Scott Burton
Pair of Park Benches. Designed for Münster in 1986
None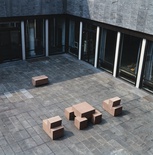 Scott Burton
Sandstone furniture (a set of prototypes). Designed 1986–87
None
Still existing / Public Collection
Removed
In the museum