Eduardo Chillida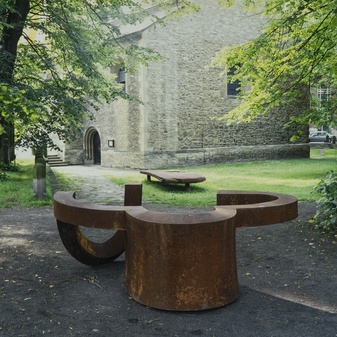 Monumento a la Tolerancia / Homenaje a Luca Pacioli [Monument to Tolerance / Homage to Luca Pacioli, models]
1987
Installation with two steel sculptures:
Monumento a la Tolerancia (model), 1985, corten steel, 94 x 264 x 220 cm
Homenaje a Luca Pacioli (model), 1986, corten steel, 70 x 600 x 170 cm
Location
Servatiikirchplatz, northwest of the church building. Temporary installation from 13 June to November 1987
Owner
Museo Chillida-Leku in Hernani, Spain
Eduardo Chillida
* 1924 in San Sebastián, Spain
† 2002 in San Sebastián
In 1987 the Basque sculptor Eduardo Chillida installed two already existing steel sculptures as a new work on Servatiikirchplatz. The abstract works Monumento a la Tolerancia and Homenaje a Luca Pacioli were consistent with medium-format designs for monuments.1 The core of Monumento a la Tolerancia is formed by an upright cylinder, branching off from which are two curved steel arms. One of the arms bends vertically downwards after a quadrant, forming a U. The shape of Homenaje a Luca Pacioli, on the other hand, is reminiscent of a table with edges that are concave along the one shorter side and convex along the other.
The installation of the two sculptures in Münster was a workaround solution since Chillida's first project proposals proved unfeasible.2 The artist intended to implement the model for Monumento a la Tolerancia as an enormous sculpture for the city of Seville.3 In Münster he looked for a location similar to the one in Seville. His choice was not based on the outward appearance of the setting but on complex historical analogies between the sites which he perceived in the Servatiikirchplatz.4 On the square Chillida combined his monument to tolerance with the monument commemorating the Italian Franciscan friar and mathematician Luca Pacioli.
One of the initial unrealised project ideas for Skulptur Projekte in Münster 1987 later gave rise to a two-part sculpture Diálogo – Tolerancia [Tolerance through Dialogue] that was carried out in 1993 and installed behind the town hall.5
Daniel Friedt
1 Cf. text on Chillida by Klaus Bußmann, in: Klaus Bußmann and Kasper König (eds.), Skulptur Projekte in Münster 1987, exhib. cat. Westfälisches Landesmuseum für Kunst und Kulturgeschichte, Münster, Cologne, 1987, 61–64.
2 For more about the rejected proposals, cf. ibid., 62–63.
3 Monumento a la Tolerancia [Monument to Tolerance], 1992, concrete sculpture, 500 x 1200 x 800 cm, Seville. Muelle de la Sal (Salt Quay) on the riverside promenade.
4 The sites in Münster and Seville were similar in their connection to the salt trade, their historic Jewish presence and the anti-Semitic crimes perpetrated by the Inquisition or, in Münster's case, by the Nazi regime. Salzstraße, an ancient long-distance trading route, among other things for the once highly precious salt, runs very close to Servatiikirchplatz, while barely 80 metres away in Klosterstraße stands the synagogue, built in 1961 in lieu of the predecessor building that had been destroyed in the Reichspogromnacht (or Kristallnacht) in 1938.
5 Diálogo – Tolerancia [Tolerance through Dialogue], 1992, sculpture in two parts, corten steel, 111 x 132 x 286 cm and 112 x 135 x 292 cm, Münster, Platz des Westfälischen Friedens; owned by the Federal State of North Rhine-Westphalia since 2016.
Location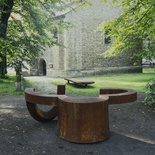 Eduardo Chillida
Monumento a la Tolerancia / Homenaje a Luca Pacioli [Monument to Tolerance / Homage to Luca Pacioli, models]
None
Still existing / Public Collection
Removed
In the museum
Other Participation
This artist also participated in: 1997