Luciano Fabro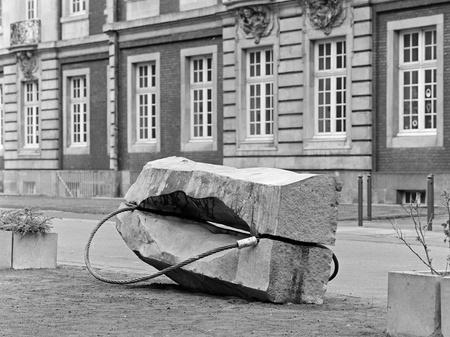 Demetra [Demeter]
1987
Installation
Abruzzo basalt, steel cable, 113.7 x 202.6 x 78.7 cm
Location
Outside the portal to the palace garden, temporary installation for the duration of Skulptur Projekte in Münster 1987
Owner
San Francisco Museum of Modern Art, donated by Robin Quist in memory of Georg Quist, purchased in 19871
Luciano Fabro
* 1936 in Turin, Italy
† 2007 in Milan, Italy
Luciano Fabro's 1987 sculpture could be interpreted as a mouth with the suggestion of an outstretched tongue: the artist hewed a hollow in the shape of two lips into the reddish green volcanic rock, then looped a dark steel cable into a slit running at half-height around the block; the cable seemed to be hanging out of the corners of the stone mouth. Fabro positioned his work near the portal to the palace garden with the front side facing the park.
The sculpture was named after Demeter, the Greek goddess of the land and agriculture, although its formal language does not mirror the mythological reference in any traditional sense. But associative connections can be established between the work's title and its setting. The botanical garden as the goddess's natural realm; the palace – the hub of the university – as a symbol of the fruitful proliferation of knowledge. Parallels can evidently also be found in the allegorical ornamental features on the palace façade.2 The reduced use of materials and the enigmatic pairing of form and title have been a source of speculation. Frequently cited in relation to Arte povera, Fabro demonstrated in Münster how commonplace motifs and processes can gain surprising significance in the context of art. Above all, it seems that Demetra creatively stimulated the imagination of viewers. It took no more than a rock, cable, a title and a specific site to act as a subtle challenge to explore one's surroundings with greater attention and to formulate one's own interpretation.
Daniel Friedt
1 San Francisco Museum of Modern Art, "Luciano Fabro, Demetra (Demeter), 1987". Online: www.sfmoma.org/artwork/87.97 (last consulted: 04.01.2017).
2 Susanne Weirich, "Demetra", in: Klaus Bußmann and Kasper König (eds.), Skulptur Projekte in Münster 1987, exhib. cat. Westfälisches Landesmuseum für Kunst und Kulturgeschichte, Münster, Cologne, 1987, 76–78.
Location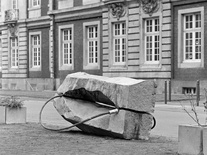 Luciano Fabro
Demetra [Demeter]
None
Still existing / Public Collection
Removed
In the museum