Dan Graham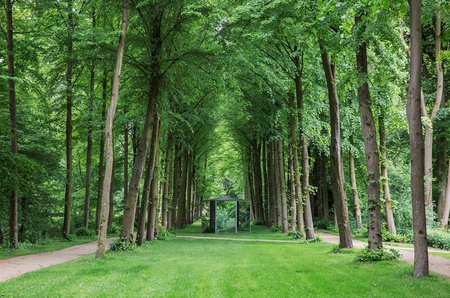 Oktogon für Münster [Octagon for Münster]
1987
Octagonal pavilion with two-way mirrored glass, metal and wood
Height 240 cm, diameter 365 cm
Location
Temporary installation in the avenue of the southern part of Schlossgarten for the duration of the exhibition
1988 Installation in the gardens of Nordkirchen Palace
June 1997 until October 1998 Installation in the gardens of Münster Palace
2007 Installation in the Schlossgarten during skulptur projekte münster 07
2017 Installation in the Schlossgarten during Skulptur Projekte Münster 2017
Owner
LWL-Museum für Kunst und Kultur, Münster
Dan Graham
* 1942 in Urbana, Illinois, USA
† 2022 in New York, USA
For Skulptur Projekte in Münster 1987 Dan Graham had an octagonal pavilion which was mirrored on all sides built in the palace gardens. The work was based on the bandstand with the same form that was built in 1929 in the park behind the palace. Oktogon für Münster (Octagon for Münster) is an allusion to the tradition of the so-called pleasure pavilion that since the baroque had become a standard feature of any laid-out park or palace grounds as a venue for social gatherings and festivities.1
The choice of materials for the outer walls was not in line with this tradition. With the two-way mirrored glass Graham was making a reference to the façade of a nearby bank office building to the south of the palace park. The reflections of the park setting captured in the mirrors of the Oktogon für Münster's outer façade spawned new vistas of landscape, while at the same time virtually dissolving its architecture.
The absence of windows represented a further departure from conventional forms and functions of the pavilion. Just one side serving as a hinged door enabled visitors to step into the edifice. Whereas people inside pavilions are usually exposed to the gaze of passers-by, here the reflective material of the walls completely shielded visitors from view. Similarly, from the inside the two-way mirrored glass afforded only a distorted view of the outer world.
Ronja Primke
1 Dan Graham, "Projekt: Oktogon für Münster", in: Klaus Bußmann and Kaspar König (eds.), Skulptur Projekte in Münster 1987, exhib. cat. Westfalisches Landesmuseum für Kunst und Kuturgeschichte, Münster, Cologne, 1987, 105–107.
Location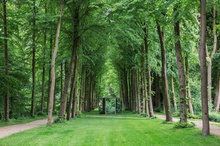 Dan Graham
Oktogon für Münster [Octagon for Münster]
None
Still existing / Public Collection
Removed
In the museum
Other Participation
This artist also participated in: 1997