Georg Herold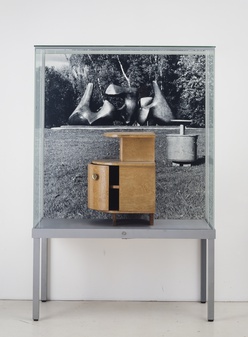 Wir richten uns ein I und II [Making ourselves at home I and II]
1987
Two display cases, each with a small piece of furniture and a photo print
Each 179.5 x 120 x 50 cm
Location
Exhibition space in the Westfälisches Landesmuseum für Kunst und Kulturgeschichte, Münster
Owner
LWL-Museum für Kunst und Kultur, Münster
Georg Herold
* 1947 in Jena, Germany
lives and works in Cologne, Germany
This work by Georg Herold was one of the projects shown in the museum's exhibition space in 1987. It consisted of two identical glass cases displaying small pieces of typical furniture from the 1960s. Behind each of the pieces of furniture there was a b/w photograph of outdoor sculptures: Henry Moore's Large Vertebrae, installed in front of the Landesbausparkasse bank in Münster since 1969, and Sol LeWitt's White Pyramid, a contribution to the 1987 exhibition in the Schlossgarten (palace gardens). The furniture in the display cases can be seen in the photographs. Standing in front of the sculptures they mimic their forms. Composition and perspective in the relative positions of each of the exhibits were exactly reproduced; the inverted proportions were a part of the mise-en-scène of the original object and its image.
The decision to install the object in the museum is an important aspect of Herold's work and an expression of his critical attitude towards art's treatment as urban furniture. Here, the particular prominence of Moore's Large Vertebrae and the then current artistic position of Sol LeWitt's White Pyramid were recalibrated: as background décor and settings for mundane post-war side furniture, whose relationship between interior and exterior offers evidence of social attitudes. In the 1950s and 1960s, decorative design boomed and became an increasingly popular aspect of ordinary middle-class homes, while at the same time large-format abstract paintings found their way into public space. Society began to make itself at home.
With Wir richten uns ein I und II Herold challenged the boundaries between decorative arts and crafts and the so-called fine arts. Besides the issue of what actually constitutes "good form" and who can afford it, he also raised the question of whether refined taste is what we mean by art.1
Anna-Lena Treese
1 Georg Herold, "Biographical Correctness", in: Kunstmuseum Wolfsburg (ed.), XTOONE. Georg Herold, exhib. cat. Kunstmuseum Wolfsburg, Eindhoven, 1995, p. 37.
Location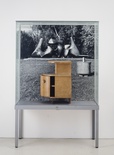 Georg Herold
Wir richten uns ein I und II [Making ourselves at home I and II]
None
Still existing / Public Collection
Removed
In the museum
Other Participation
This artist also participated in: 1997