Matt Mullican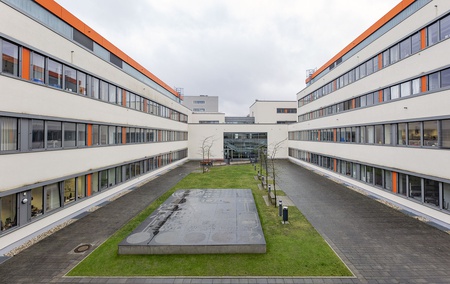 Untitled (Sculpture for the Chemical Institutes)
1987
Ground-based relief consisting of 35 sandblasted black granite panels measuring 150 x 150 cm, assembled into an arrangement of 7 x 5 panels, overall dimensions: 1,050 x 750 cm
Location (until April 2021)
Centre of natural sciences / Institute for Inorganic and Analytic Chemistry, grass verge between the buildings at Wilhelm-Klemm-Straße 6 (auditorium) and 8, and Corrensstraße 40; access possible from Corrensstraße 40.
New location (since August 2021)
PharmaCampus, Courtyard Corrensstraße 48
Public access via Henriette-Son-Straße
Owner
LWL-Museum für Kunst und Kultur, Münster.
Purchased with the support of NRW-Stiftung and the Chemistry Faculty at Münster University
Matt Mullican
* 1951 in Santa Monica, California, USA
lives and works in New York, USA
In 1987 the conceptual artist Matt Mullican constructed a flat ground sculpture between three buildings belonging to the Institute of Chemistry of the University of Münster. In the courtyard between block-shaped functional buildings with lecture halls and laboratories he laid 35 granite slabs on a rectangular area of grass. Built around a blank smooth slab at the centre he arranged further panels onto which he sandblasted various motifs.
For the work's location Mullican chose an intimate site that is relatively unknown to the public. Adopting his characteristically encyclopaedic procedure, he installed a system of signs and symbols derived from the real world. These cosmologies "start with nothing and with the elements and then ascend from images from organic evolution via the imprint of a smashed human skeleton to cosmological symbols on the left, and on the right, to the trivial pictograms of our road and routing signage."1
It is no coincidence that the emblems of laboratory devices correspond with the research performed on this site. Since eternity people have used sign systems to communicate or to order and elucidate the world. For Münster, Mullican designed an artistic variant of such an explanatory model, using contemporary hieroglyphs that seem to shed light on the conditions of existence.
Daniel Friedt
1 Georg Jappe, Skulptur Projekte in Münster 1987. Rundgang, Münster 1987, 139.
Location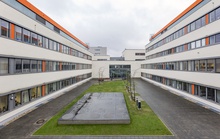 Matt Mullican
Untitled (Sculpture for the Chemical institutes)
New location (since 2021)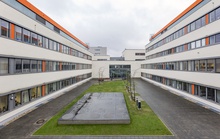 Matt Mullican
Untitled (Sculpture for the Chemical institutes)
None
Still existing / Public Collection
Removed
In the museum