Lothar Baumgarten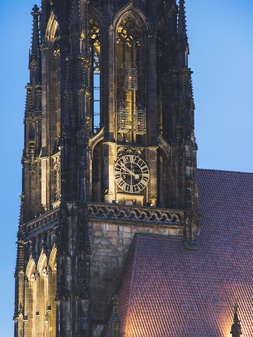 Drei Irrlichter [Three Will-o'-the-Wisps]
1987
Installation comprising three 15 watt light bulbs
Location
South side of the St. Lamberti church tower at a height of 60 m, Kirchherrngasse 3, permanent installation in the St. Lamberti church's iron cages
Owner
LWL-Museum für Kunst und Kultur, Münster, acquired with the support of businesses on Prinzipalmarkt
Lothar Baumgarten
* 1944 in Rheinsberg, Germany
† 2018 in Berlin, Germany
The historic events during the reformatory reign of the Anabaptists in Münster in the 1530s were the point of departure for Lothar Baumgarten's light installation Drei Irrlichter [Three Will-o'-the-Wisps] for the Skulptur Projekte in Münster 1987.
The so-called Münster Rebellion was a radical reformatory Christian movement in the 16th century, rigorously and violently pursuing their own beliefs regarding the apocalypse and the second coming of Jesus Christ. During the so-called Johannisnacht [Saint John's Eve] in 1535 the leaders of the movement – Jan van Leiden, Heinrich Krechting, and Bernd Knipperdollinck – were put on trial: "A frenzied massacre, lasting two days and one night, once and for all broke their resistance", was how Baumgarten depicted events in his project proposal. "Placed on the scaffold, the leaders of the rebellion were put on trial, their reign of terror cruelly and mercilessly terminated. On Prinzipalmarkt the Anabaptists were subjected to hours of torturing, the flesh being ripped from their bodies with red-hot tongs. The martyred leaders' corpses […] were put on display in iron cages suspended from the tower of the St. Lamberti church. So they hung there as a deterrent and as outcasts for their violent undermining of divine and human order."1
Baumgarten's Drei Irrlichter [Three Will-o'-the-Wisps] remind us of the events during Saint John's Eve, whilst at the same time calling for better ways of approaching heretics. They have been illuminated in the iron cages on the tower of the St. Lamberti church every night since 1987. The installation's title alludes to the Anabaptists' souls gone astray, but also to the dubious display of torture by the Catholic Church.
Baumgarten had originally planned a further component to the project on the Liebfrauen-Überwasser parish church: Das gestürzte Kreuz [The Fallen Cross], an abstract semi cross consisting of dark red roofing tiles on the church's roof was to recall the reformatory iconoclasm. However, due to objections by the parish council it remained unrealised.

Ronja Primke
1 Lothar Baumgarten, Das gestürzte Kreuz / Drei Irrlichter. In: Klaus Bußmann and Kasper König (eds.), Skulptur Projekte in Münster 1987, exhib. cat.: Westfälisches Landesmuseum für Kunst und Kulturgeschichte, Münster, Köln 1987, 46–48.
Location
Still existing / Public Collection
Removed
In the museum