Thomas Huber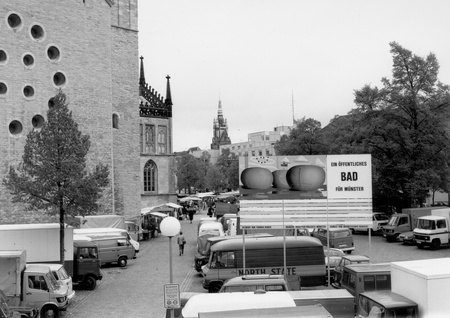 Ein öffentliches Bad für Münster [A public bath for Münster]
1987
Aluminium object, varnished
330 x 600 cm
Location
Domplatz [Cathedral Square], western side. Temporary installation for the duration of the exhibition Skulptur Projekte in Münster 1987
Thomas Huber
* 1955 in Zürich, Switzerland
lives and works in Düsseldorf, Germany
In 1987, based on a proposal to "occupy public space"1 Thomas Huber developed the idea of a public bath, which he then depicted on a project information panel with an official-looking inscription erected in front of the west-facing entrance to St. Paul's Cathedral. The panel showed the western façade of the church, three earthenware vessels that were intended to serve as baths, three clouds in the background and gleaming puddles next to the vessels.
Thomas Huber described the functional concept of his object in a literary text reproduced in the exhibition catalogue. As with many of this artist's other works, the text is as important as an integral component of the work as are the pictures and drawings he produced during the project's development.
Alina Beckmann
1 Thomas Huber, "Projekt: Ein öffentliches Bad für Münster", in: Klaus Bußmann and Kasper König (eds.), Skulptur Projekte in Münster 1987, exhib. cat. Westfalisches Landesmuseum für Kunst und Kuturgeschichte, Münster, Cologne, 1987, 142.
Location
Still existing / Public Collection
Removed
In the museum