Jeff Koons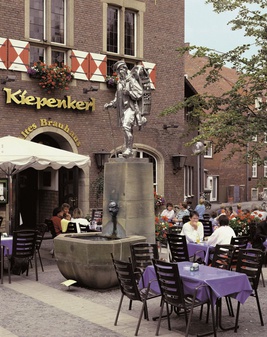 Der Kiepenkerl in Edelstahl [Kiepenkerl in stainless steel]
1987
Stainless steel sculpture
184.8 x 80 x 81.9 cm, 249.5 kg
On loan from the Ileana Sonnabend Gallery, New York, USA
Location
Corner of Spiekerhof / Bergstraße, outside the entrance to the tavern "Grosser Kiepenkerl". Installation for the duration of Skulptur Projekte in Münster 1987, inaugurated on 14 June 1987
Owner
Hirschhorn Museum and Sculpture Garden, Washington D.C., USA
Jeff Koons
* 1955 in York, Pennsylvania, USA
lives and works in New York, USA, and York, Pennsylvania, USA
With his 1987 sculpture Kiepenkerl Jeff Koons replaced the bronze statue of the "Kiepenkerl" on Spiekerhof with a perfect copy made of polished stainless steel. The "Kiepenkerl" character, a peddler with cap and pipe who traditionally travelled around the Münsterland region bearing his woven basket of wares ("Kiepe") on his back, had already been immortalised in a statue erected in the old town on 1896. After its destruction in World War II the original monument carved in Baumberg sandstone was replaced by a bronze copy. Today the statue is still immensely popular and is known beyond the city as an emblem of Münster.
Jeff Koons' re-enactment of the "Kiepenkerl" worked with the familiar original forms but defamiliarised the material. As the "material of the masses"1 the stainless steel in which the new sculpture was cast was consistent with Koons's overall artistic concept. In allusion to the to the Prinzipialmarkt as an up-market shopping district, its brightly polished surface also appeared to suggest a sham façade of luxury. The artist thereby raised the "Kiepenkerl" to a new level of perception, divesting the figure of its original folkloric character.
Ronja Primke
1 Jeff Koons, "Kiepenkerl", in: Klaus Bußmann and Kasper König (eds.), Skulptur Projekte in Münster 1987, exhib. cat. Westfälisches Landesmuseum für Kunst und Kulturgeschichte, Münster, Cologne, 1987, 164–166 (here: 164).
Location
Still existing / Public Collection
Removed
In the museum