Richard Serra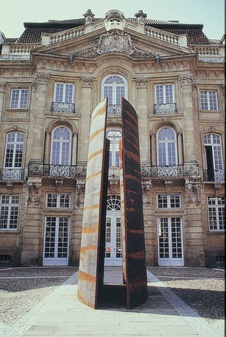 Trunk, J. Conrad Schlaun Recomposed
1987
Two-part sculpture of Corten steel
590 x 425 x 200 cm; weight: 24 t
Location
Main courtyard of Erbdrostenhof palace, Salzstraße. Temporary installation for the duration of the exhibition.
Permanent installation on Blumenaustrasse in St. Gallen, Switzerland, between Theater St. Gallen and the Kunstmuseum
Owner
City of St. Gallen
Richard Serra
* 1939 in San Francisco, USA
lives and works in New York, USA, and Cape Breton Island, Nova Scotia, Canada
The Münster architect Johann Conrad Schlaun designed Erbdrostenhof palace, with its distinctive curving façade and triangular courtyard of honour, in 1757. Richard Serra explored the architectural features of this aristocratic residence in his contribution to Skulptur Projekte in Münster 1987. He transferred the dimensions of the curvature of the building's central projection onto two Corten-steel plates, each weighing 12 tons. Positioned on the central axis in front of the palace entrance, the two plates – which converged towards the top at a slight tilt – opened up their own space. This detached them from the building and nevertheless established formal correspondences with it.1 Figuratively speaking, the work was thus a "trunk" – a sculptural body that referenced the basic elements of Baroque architecture and which, through its raw materiality and monumentality, made it possible to view the historical building from a contemporary perspective.
Due to its negative reception by the city's residents, the work did not remain in Münster. It was taken down and subsequently found a new home in front of the St. Gallen Kunstmuseum – a location that raises the issue of the geographical determination of site-specific works and at the same time exposes the dubiousness of moving such works away from their original site.
Georgios Paroglou
1 Cf. Christoph Schreier, "Plastik als Raumkunst. Zum Verhältnis von Architektur und Plastik als raumgestaltenden Künsten", in: Klaus Bußmann and Kasper König (eds.), Skulptur Projekte in Münster 1987, exhib. cat. Westfälisches Landesmuseum für Kunst und Kulturgeschichte, Münster, Cologne, 1987, pp. 347f.
Location
Still existing / Public Collection
Removed
In the museum