Richard Deacon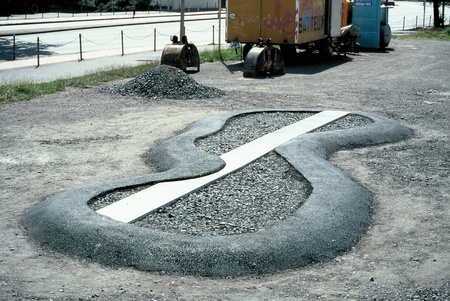 After Poussin
1997
Sculpture/floor relief
Asphalt track (height: 12 cm; width: 50 cm), stainless steel beam (12 x 882 x 50 cm), gravel from the car park as filler; the sculpture extended over an area of 382 x 882 cm
Location
Schlossplatz (called Hindenburgplatz until 2012), on the southern half of the square between the entrances to the pedestrian underpass.
Temporary exhibition for the duration of Skulptur. Projekte in Münster 1997
Richard Deacon
* 1949 in Bangor, Great Britain
lives and works in London, Great Britain
Richard Deacon contributed two monumental undulating sculptures to the 1987 edition of Skulptur Projekte. Ten years later, when he was again invited to take part, he created a floor relief sculpture for a large open area of the Schlossplatz that was mainly used as a car park. Deacon was interested in this site because of the contrast between the open, urban location and the rather scruffy, purely functional space.1
After Poussin consisted of a stainless steel beam enclosed by a snaking asphalt track. A characteristic feature of Deacon's sculptures is that they take their shape from the human body, and this piece was no exception. After Poussin specifically referred to a work by the French Baroque painter Nicolas Poussin, where the central motif – the stiff corpse of a man with a snake wrapped around it – is almost engulfed in the depiction of a panoramic landscape.2 This inspired Deacon to place his asphalt snake with the rigid steel beam in the similarly expansive urban landscape of the Schlossplatz.
Daniel Friedt
1 Klaus Bußmann, Kasper König and Florian Matzner (eds.), Skulptur. Projekte in Münster 1997, exhib. cat. Westfälisches Landesmuseum für Kunst und Kulturgeschichte, Münster, Ostfildern-Ruit, 1997, pp. 115–117.
2 Nicolas Poussin, Paysage avec un homme tué par un serpent [Landscape with a Man Killed by a Snake], ca. 1648, oil on canvas, 119 x 198.5 cm, National Gallery, London, inventory number: NG5763.
Location
Still existing / Public Collection
Removed
In the museum
Other Participation
This artist also participated in: 1987