Marjetica Potrč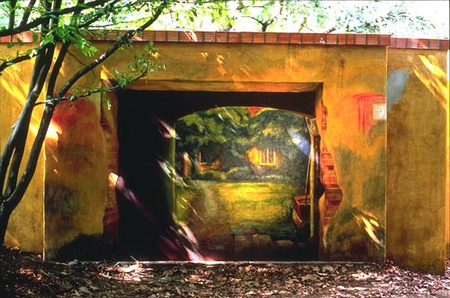 Magadan
1997
Installation
Sign with the inscription "MAGADAN", various construction materials such as bricks, wood and plastic roofing
Location
Grounds of the former air-raid shelter in Lazarettstrasse.
Temporary installation for the duration of Skulptur. Projekte in Münster 1997
Marjetica Potrč
* 1953 in Ljubljana, Slovenia
lives and works in Ljubljana, Slovenia
With Magadan, Marjetica Potrč in 1997 installed the name of a coastal town in eastern Russia over a gateway in a brick wall close to Promenade. Only in appearance is this massive edifice a historic fortification. Concealed behind the camouflaged façade is a multi-storey air raid shelter that was built in 1941. Potrč partially opened up the building, allowing visitors to pass through several narrow corridors to reach a grassy area on a lower level at the rear where three built structures with walled-in windows were standing. Decorated on just one side with frescoes, these edifices proved to be no more than vacant shells. In their fragmented, interim state they prompted a number of questions, evidence of Potrč's interest in forms of informal architecture that defy the regimentation of urban planning. Francesco Bonami defined this as "anthropological urbanism".1
While the graduated architect and sculptor in her other 'case studies' examines and quotes specific types of settlement, forms of habitation and local architectural idioms, in Münster she turned her attention to a generic construction. Here, her work was universally identifiable and in a pragmatic manner made use of unconventional materials. In both areas of activity various types of improvised architecture and marginal spaces that assume lives of their own are placed in the focus of a decidedly socially critical artistic practice, as is clearly articulated in Potrč's statement: "I think it is good for Münster to have someplace which is all that it is not, to have something unexpectedly deserted, shabby, wild, uncontrollable and disorderly, something of no use to the city. I think cities need empty buildings (places of rest) like a man needs a place to sleep."2
Andreas Prinzing
1 Francesco Bonami, "Promised Land. Shelters and Other Spaces in the work of Marjetica Potrč", in: Künstlerhaus Bethanien/Philip Morris Kunstförderung (eds.), Marjetica Potrč, Berlin, 2001, p. 3.
2 Marjetica Potrč, "Vorschläge für Skulptur Projekte Münster 1997", in: Klaus Bußmann, Kasper König and Florian Matzner (eds.), Skulptur. Projekte in Münster 1997, exhib. cat. Westfalisches Landesmuseum für Kunst und Kulturgeschichte, Münster, Ostfildern-Ruit, 1997, pp. 323f.
Location
Still existing / Public Collection
Removed
In the museum