Herman de Vries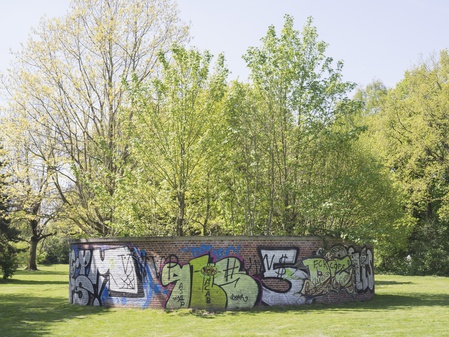 sanctuarium
1997
Circular brick wall sculpture with sandstone elements
Height 3 m, diameter 14 m, width of wall 0.4 m, height of sandstone coping 0.55 m
Location
Meadow between the northern part of the Schlossgarten and Einsteinstraße, permanent installation
Owner
LWL-Museum für Kunst und Kultur, Münster
Herman de Vries
* 1931 in Alkmaar, Netherlands
lives and works in Eschenau, Germany
In his text published in 1995 "ich hasse kunst in der natur" [i hate art in nature] herman de vries stated: "nature is self-sufficient and should also suffice for humans. what we can still find around us today in terms of nature (i consciously don't say 'have') does not require any human additions. it is a revelation in itself – and for us, one which is mostly overlooked. art in nature is overbearing, arrogant – or ignorant! if art has anything to do with consciousness, conscious processes, raising consciousness (and their communication) – isn't nature itself then conscious?"1 It is against this background that de vries invites us to go for a walk in order to directly experience the nature bordering paths through forests and fields. According to the artist, the experience of nature is richer and more elevating than any encounter with art could ever be: "as an artist I would like to plant an oak, roughly in the place where saint boniface had one felled (in a manner which was fateful for our historical development); i would then like to establish 'sanctuaries' and protect them from any intervention. nature is art."2
In 1993 de vries was in fact able to establish such a sanctuarium on the occasion of the Internationale Gartenbauausstellung [International Garden Festival] in Stuttgart, a circular fenced off area squeezed between two busy roads. Here nature was provided with a permeable haven within an expanding asphalt desert. The Münster sanctuarium with its three metre high brick wall on a similarly circular base appears in stark contrast to its location. It is sited in Schlosspark which is indebted to English landscape gardens, permitting only certain plants and subject to the human shaping of form. de vries makes us aware that even if areas of vegetation in urban spaces may act as green lungs, they are in fact an amputated and impoverished nature. In contrast, within the round sanctuarium every kind of plant is able to sprout, flourish and decay. Above four oval sandstone-framed openings in the wall, the following text is inscribed in Sanskrit: "om. this is perfect. that is perfect. perfect comes from perfect. take perfect from perfect, the remainder is perfect."3 Humanity is physically excluded from this idyll, since no entrance exists. The viewer's only access to this perfect nature is by looking through the oval openings.
Whilst the plants that are growing wild are fascinating in their variety, looking into the roundel also causes feelings of unease: the sanctuarium is not only home to plants whose seeds have been carried in by the wind, but also to shards of glass, plastic litter and bits of paper that people have carelessly thrown over the wall. It seems that the utopia of unspoilt nature has to capitulate before the reality of our throwaway society. But perhaps this is to embrace despondency, whilst de vries thinks on a grander scale: time will show which is the stronger force.

Eckhard Kluth
1 Andreas Meier (ed.), herman de vries: to be. texte-textarbeiten-textbilder. auswahl von schriften und bildern 1954–1995, Stuttgart 1995, 178–179.
2 Ibid.
3 Klaus Bußmann, Kasper König and Florian Matzner (eds.), Skulptur. Projekte in Münster 1997, exhib. cat.: Westfälisches Landesmuseum für Kunst und Kulturgeschichte, Münster, Ostfildern-Ruit 1997, 431–435, here 433.
Location
Still existing / Public Collection
Removed
In the museum