Bert Theis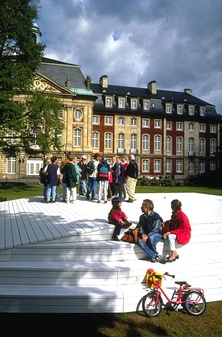 Philosophische Plattform [Philosophical Platform]
1997
Installation
Wood, white paint, metal, sound system, mini-disk, fog machine, lighting system
2300 x 1000 x 120 cm
Location
Schlossgarten park, grassy area between the Palace and the Botanical Gardens.
Temporary installation for the duration of Skulptur. Projekte in Münster 1997
Bert Theis
* 1952 in Luxemburg, Luxemburg
† 2016 in Luxemburg
In 1997 Bert Theis installed his Philosophische Plattform on the area of grass between the Palace and the Botanical Gardens. Its dimensions and positioning made reference to the central avant-corps jutting out from the palace façade. The wooden platform, painted white, was accessible via two short flights of steps and two lateral ramps. Its construction called to mind an empty stage, brought to life through human activity. Anyone and everyone could cross the platform on foot or by bicycle, or use it as a place to sit down for a while or from where to look over the hedge of the Botanical Gardens towards the rear of the palace. Computer-modified sounds issued from inside the installation, and in the evenings clouds of steam billowed from the platform, which was illuminated from below. The construction thus had both an epistemological function and concrete practical value.
Theis based his work on a set of plans – never executed – for a Baroque park in Münster, laid out around centralised visual axes and paths.1 In the artist's view, these axes would have allowed the surroundings to be experienced at an accelerated speed from a carriage or on horseback.2 The platform correspondingly emphasised its own axial layout and remained traversable by pedestrians and cyclists via its ramps.
Daniel Friedt
1 Johann Conrad Schlaun, the architect of Münster's Prince Bishop's Palace, had planned to lay out the gardens in the formal French style. After Schlaun's death in 1773, his successor, Wilhelm Ferdinand Lipper, opted for the model of the English landscape garden. Schlaun's symmetrical garden design is documented in original plans housed in the LWL-Museum für Kunst und Kultur. Bert Theis also based the work on two philosophical writings by Immanuel Kant: Beobachtungen über das Gefühl des Schönen und Erhabenen (Observation on the Feeling of the Beautiful and Sublime), Königsberg, 1764, and "Das Ende aller Dinge" (The End of All Things), in: Berlinische Monatsschrift, 23, pp. 495–523.
2 See the conversation between Bert Theis and Carlo Dolci in: Klaus Bussmann, Kasper König and Florian Matzner (eds.), Sculpture. Projects in Münster 1997, exhib. cat. Westfälisches Landesmuseum für Kunst und Kulturgeschichte, Münster, Ostfildern-Ruit, 1997, pp. 413–417, esp. p. 417.
Location
Still existing / Public Collection
Removed
In the museum