Rirkrit Tiravanija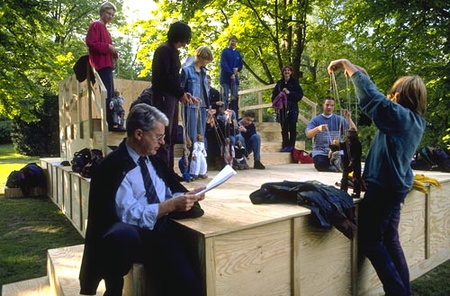 Untitled, 1997 (The Zoo Society)
1997
Participatory project
Wooden stage, puppets, props, scenery
Performed by a group of school children from the Gymnasium Paulinum (grammar school)
Location
Grounds of the former zoo behind the Westfälische Schule für Musik, Himmelreichallee 50.
Temporary installation and performance for the duration of Skulptur. Projekte in Münster 1997: 21.6.1997 until 28.9.1997, every Saturday and/or Sunday afternoon
Rirkrit Tiravanija
* 1961 in Buenos Aires, Argentina
lives and works in New York, USA, in Berlin, Germany, and in Chiang Mai, Thailand
For Skulptur. Projekte in Münster 1997 Rirkrit Tiravanija conceived a stage for performing puppet plays at the weekend. The puppets were made locally in workshops with Münster residents. Local groups were also responsible for the scenery, the script and staging the play. The production was based on Söffken van Gievenbeck, a story about a Münsterland farm that is saved only thanks to the farmer's son who has become a successful artist. In contrast to a conventional theatre the audience had the freedom to walk around during the performance, to get something to drink and to socialise. According to Tiravanija, the wooden structure was designed to be used simultaneously as a stage, a café and a place to meet.1
Tiravanija deliberately chose amateurs to carry out the project, which was inspired by the soirée events held by the Abendgesellschaft Zoologischer Garten (Zoo Society), an amateur theatre group that raised funding for Münster's zoo, originally founded by Hermann Landois. Performing solely with male actors, the Zoo Society played an important part in the city's cultural life. Tiravanija substituted the actors with puppets but retained the principle of their male identity. With music and theatre, Untitled, 1997 (The Zoo Society) was sought to convey the ideas associated with the zoo and the Zoo Society, yet at the same time also to give pleasure to everyone involved. In the fusion of production and reception, art and social interaction, the work can be seen in the context of the participatory projects described by Nicolas Bourriaud in his collection of essays Relational Aesthetics.2
Sarah Kristin Happersberger
1 Cf. Rirkrit Tiravanija, "Untitled, 1997 (The Zoo Society)", in: Klaus Bußmann, Kasper König and Florian Matzner (eds.), Skulptur. Projekte in Münster 1997, exhib. cat. Westfälisches Landesmuseum für Kunst und Kulturgeschichte, Münster, Ostfildern-Ruit, 1997, pp. 422–425.
2 Cf. Nicolas Bourriaud, Relational Aesthetics, Dijon, 2002.
Location
Still existing / Public Collection
Removed
In the museum