Lawrence Weiner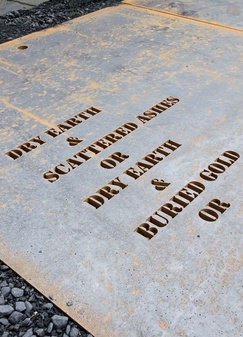 Skulptur Projekt Münster 1997
1997
Four-part installation comprising four steel plates from the Münster Department of Public Works, two with texts debossed into the steel in English and two in German; typeface: Franklin Gothic Extra Condensed
Steel plates each 2 x 250 x 170 cm
Location
Domplatz and Michaelisplatz.
Temporary installation for the duration of Skulptur. Projekte in Münster 1997
Owner
On permanent loan from the artist to the Westfälisches Landesmuseum für Kunst und Kultur, Münster
Lawrence Weiner
* 1942 in New York, USA
lives and works in New York and Amsterdam, The Netherlands
On four steel plates of the kind used to cover holes in the ground at building sites, Weiner had eight lines of text, composed by himself, cut into the steel. Two of the plates carried the words "DRY EARTH & SCATTERED ASHES OR DRY EARTH & BURIED GOLD OR" in English, and the other two the German version "VERTROCKNETE ERDE & GESTREUTE ASCHE ODER VERTROCKNETE ERDE & VERGRABENES GOLD ODER". Weiner's concept envisaged that the plates would form bilingual pairs and should be laid over holes as per their original intended function. The artist left the choice of their location up to the City of Münster's Department of Public Works and the team organising Skulptur. Projekte in Münster 1997. The chosen sites were Domplatz and Michaelisplatz, where civil-engineering projects involving excavations were taking place during the exhibition.
To anyone casting just a fleeting glance, Weiner's work Skulptur Projekt Münster 1997 remained hidden within the streetscape. Only upon closer inspection of the construction sites did the plates arouse curiosity and invite speculation. Those reading the open ending of the unfinished inscriptions could mentally add further lines to the text and thereby reflect upon the serviceability, as it were, of art in public spaces. The fact that Weiner, who ranks among the most important representatives of Conceptual Art since the early 1960s, left it up to the "receivers" of his art to decide on its placement, reflects the principles that he formulated in his 1968 "Declaration of Intent".1
Daniel Friedt
1 "Declaration of Intend [sic!]: 1. The artist may construct the piece. 2. The piece may be fabricated. 3. The piece need not be built. Each being equal and consistent with the intent of the artist, the decision as to condition rests with the receiver upon the occasion of receivership." Lawrence Weiner, "Declaration of Intend [sic!]". In: Seth Siegelaub (ed.), January 5–31, 1969, exhib. cat. Seth Siegelaub, New York, 1969, n.p.
Location
Still existing / Public Collection
Removed
In the museum