Elin Wikström / Anna Brag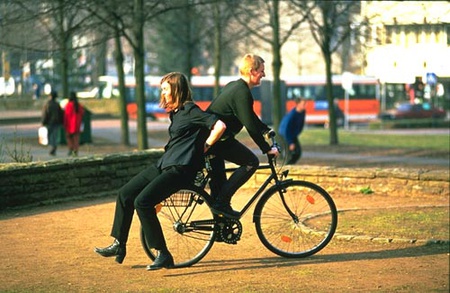 Returnity
1997
Participatory project
Pavilion made of wood, bicycles, LED display, multiples with cogwheels
Location
Promenade, above the hollow in the terrain between Aegidiistrasse and Kanonengraben.
Temporary action for the duration of Skulptur. Projekte in Münster 1997
Elin Wikström / Anna Brag
* 1965 in Karlskrona, Sweden
lives and works in Göteborg, Sweden, and Umeå, Sweden
For Skulptur. Projekte in Münster 1997 Elin Wikström and Anna Brag set up a cycling school as a non-profit company. Following the example of services offered by other cycling clubs, the cycling school Returnity maintained a clubhouse and a training facility on Promenade, the well-known circular bicycle track around the centre of Münster. Acting as trainers for the three-month duration of the project, the artists taught people an alternative way of riding a bicycle. On bikes specially constructed for the club, people practised how to ride backwards. Rear mirrors and additional support wheels gave help in learning the unfamiliar balancing act, while the two artists offered further assistance to the learner cyclists equipped with safety helmets and reflective vests.
Statistics about the cyclists travelling in reverse or forward flashed up on the electronic display panel installed on the clubhouse. Anyone with a keen interest in this novel form of transport could purchase the gear wheels needed to modify a bike as a multiple or take part in excursions and talks held by the club.1
For Wikström and Brag Returnity was a means of highlighting the image of Münster as a cycle-friendly city, as well as addressing the active engagement of German citizens in the running of clubs and associations.2 As a social platform their project brought people together, helped them to jointly acquire an ability that afforded a novel way of viewing the city. By reversing people's riding direction the artists not only took the routines of everyday life to absurd lengths but also tested their readiness to change their patterns of behaviour.
Sarah Kristin Happersberger
1 Cf. Maria Lind, "Elin Wikstrom / Anna Brag – Returnity", in: Klaus Bußmann, Kasper König and Florian Matzner (eds.), Skulptur. Projekte in Münster 1997, exhib. cat. Westfälisches Landesmuseum für Kunst und Kulturgeschichte, Münster, Ostfildern-Ruit, 1997, pp. 453–455.
2 Cf. Maria Lind, "Returning on Bikes. Notes on Social Practice", in: Nato Thompson (ed.), Living as Form. Socially Engaged Art from 1991–2011, Cambridge, Massachusetts, 2012, p. 47.
Location
Still existing / Public Collection
Removed
In the museum