Stephen Craig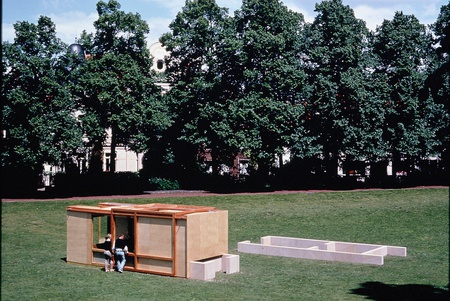 Grundriss Pavillon [Pavilion Ground Plan]
Two-part architectural installation
1997
Baumberg sandstone, wood, glass
50 x 750 x 330 cm and 300 x 770 x 330 cm
Location
Grassy area near Promenade between Aegidiitor and Wallgasse.
Temporary installation for the duration of Skulptur. Projekte in Münster 1997
Stephen Craig
* 1960 in Larne, Northern Ireland
lives and works in Hamburg, Germany, and Karlsruhe, Germany
Using blocks of Baumberg sandstone, respectively 50 cm and 80 cm high, Stephen Craig constructed two oblong ground plans on the sloping area of grass beside Promenade between Aegidiitor and Wallgasse. The simple horizontal rectangular shapes strongly resembled the characteristic layout of ancient Greek temples. However, with the long sides measuring seven metres Craig's edifice had the dimensions of a miniaturised model. One of the stone ground plans was covered by a modern wooden pavilion with several large-format windows reaching almost to the ground, preventing visitors from going inside. The neighbouring outline structures remained unprotected and maybe their low walls brought to mind actual ancient ruins and archaeological excavation sites. "Are they ruins at all? Or perhaps the foundation for a new building? Is the pavilion a sort of showcase, […] or is it a new structure which has grown up around the old form?"1
By combining traditional building materials and architectural forms with a modern pavilion Stephan Craig's contribution was addressing common perceptions of historical forms and structures, and how they are treated. In doing so, Craig was also making reference to the various phases of destruction and reconstruction in the course of Münster's history. Likewise, by offering different possibilities of accessing these architectural structures the artist was also giving visual expression to and questioning the relationship between public and private space on a miniaturised scale.
Ronja Primke
1 Stephan Craig, "Contribution to Skulptur. Projekte in Münster 1997", in: Klaus Bußmann, Kasper König and Florian Matzner (eds.), Skulptur. Projekte in Münster 1997, exhib. cat. Westfälisches Landesmuseum für Kunst und Kulturgeschichte, Münster, Ostfildern-Ruit, 1997, p. 112.
Location
Still existing / Public Collection
Removed
In the museum