Atelier Van Lieshout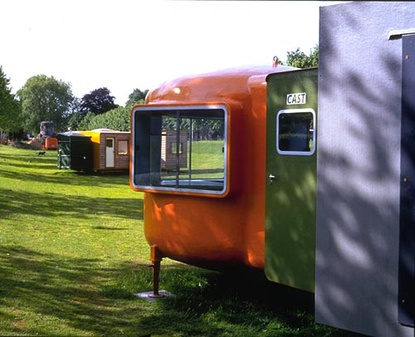 Hausfreund II [House Friend II]
Four-part installation, consisting of:
Mobile Home for Kröller-Müller, 1995, Kröller-Müller Museum, Otterlo
Modular House Mobile, 1995/1996, Atelier van Lieshout
CAST Mobiel, 1996, CAST Collection, Tilburg
Autocrat, 1997
Location
Sunken grassy area along Promenadenring, south of Hörsterstrasse, opposite the NRW State Archives (Westphalia department).
Temporary installation for the duration of Skulptur. Projekte in Münster 1997
Atelier Van Lieshout
founded 1995 in Rotterdam, The Netherlands
Headquarters of the Atelier team: Rotterdam, The Netherlands
Principal artist: Joep van Lieshout
* 1963 in Ravenstein, The Netherlands
In 1997 Atelier Van Lieshout – a Dutch interdisciplinary artists' collective – sited four remodelled mobile homes on a low-lying grass meadow beside Promenade, the green belt surrounding the inner city. Against the backdrop of traditional Münster clinker-brick architecture, the mobile units addressed the subject of living in the city. The Modular House Mobile combined a kitchen, sleeping areas and a convertible storage space, as well as a shower and toilet, within a confined space. As in the Atelier's earlier caravan project, La Bais-o-Drôme, design in CAST Mobiel also went hand in hand with functionality: a sunbathing area, furnished with a minibar and loudspeaker system, dominated the interior with its curved and rounded forms. In Mobile Home for Kröller-Müller, the interior design could be tailored to the personal taste of its inhabitants. The spartan Autocrat, lastly, was intended to allow its occupants to live in remote isolation and from what nature alone provides.1 The colourful units made reference to modernist architectural fantasies. But they also exhibited strange, prosthetic appendages, whose shapes evolved out of the functions of those spaces, which did not just fulfil basic needs but also provided music and amenities for relaxation and serving drinks.
Stefanie Raupach
1 Camiel van Winkel, "Joep van Lieshout – Not Depressed". In: Klaus Bußmann, Kasper König and Florian Matzner (eds.), Sculpture. Projects in Münster 1997, exhib. cat. Westfälisches Landesmuseum für Kunst und Kulturgeschichte, Münster, Ostfildern-Ruit, 1997, p. 273.
Location
Still existing / Public Collection
Removed
In the museum