Karin Sander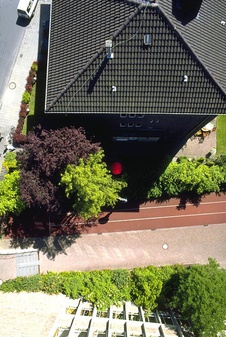 Schwerpunkt der Stadt Münster 1997 [Centre of Gravity of the City of Münster 1997]
1997
Concrete, red paint
Diameter: 130 cm
Location
Private garden between the Marienschule (a Catholic Grammar School for Girls) and the residential building at Von-Kluck-Straße 38
Gauss-Krüger coordinates:
Easting: 3405456.8 m
Northing: 5758707.1 m
Geographical coordinates:
Latitude: 51° 57' 20.24"
Longitude: 7° 37' 28.36"
Status
Installation for the duration of Skulptur. Projekte in Münster 1997 and left as a fragment in urban space
Karin Sander
* 1957 in Bensberg, Germany
lives and works in Berlin, Germany, and Zürich, Switzerland
The city of Münster grew from a small sixth-century Saxon settlement called Mimigernaford and the monastery founded in 793 by a missionary called Liudger. During the Middle Ages it expanded almost in a circle around Domplatz, with Prinzipalmarkt and the town hall forming the town's centre.
While the city's political and social core has never shifted from its earliest location, over time the municipal area has expanded in a geographically irregular manner. This prompted Karin Sander in 1997 to undertake new measurements to establish the precise central point of Münster which by now lay at a considerable distance from Domplatz. In this Sander was assisted by the physicist Dieter Grünebaum, the geodesist Lothar Lenzmann and Olaf Lenzmann, an electrical engineering student. With their expertise, using a new method of calculation devised specifically for this project and working with survey data supplied by the city land registry office, the artist succeeded in determining the geometric centre of gravity and true geographic centre of Münster.1 Sander marked the calculated spot between a private property and the Mariengymnasium school on the Von-Kluck-Strasse with a red circular concrete slab.
With this project Karin Sander brought an anonymous place into the foreground of her artistic work and created a counterpoint to Münster's centre of trade and local government in the heart of the city. As a purely mathematic entity the centre of gravity prompts us to think about urban change over history and in the present from which the city's truly identity-forming features have emerged – and continue to do so .
Daniel Friedt
1 For a more detailed description of the calculation, cf. Hubert Hagedorn, "Determination of Centre of Gravity in Münster", in: Klaus Bussmann, Kasper König and Florian Matzner (eds.), Skulptur. Projekte in Münster 1997, exhib. cat. Westfälisches Landesmuseum für Kunst und Kulturgeschichte, Münster, Ostfildern-Ruit, 1997, pp. 367–369; for a description of Karin Sander's project concept, cf. op. cit., pp. 365–366.
Location
Still existing / Public Collection
Removed
In the museum