Wolfgang Winter / Berthold Hörbelt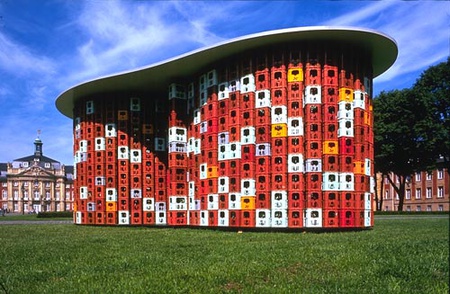 Kastenhäuser [Crate houses]
1997
Four temporary structures used as information stands
Bottle crates belonging to Deutsche Brunnen AG, fibreglass laminate and packing-crate grade plywood
Locations
Main railway station; Salzstrasse in front of Karstadt; northwest bank of Aasee lake; in front of the north gatehouse of Münster Palace.
Temporary installation for the duration of Skulptur. Projekte in Münster 1997
Wolfgang Winter / Berthold Hörbelt
* 1960 in Offenbach, Germany
lives and works in Frankfurt am Main, Germany
*1958 in Coesfeld, Germany
lives and works in Frankfurt am Main and Havixbeck, Germany
Artistic collaboration since 1992
Wolfgang Winter and Berthold Hörbelt have been working as the artist duo Winter/Hoerbelt since 1992. Known chiefly for their outdoor sculptural works, they interrogate sculpture in its relationship to public space. They frequently combine the spheres of music, architecture and design and develop temporary installations out of everyday materials with infrastructural properties.1
Within the framework of Skulptur. Projekte in Münster 1997, Winter/Hoerbelt erected four of their "crate houses", which consisted simply of stacked bottle crates belonging to the mineral-water bottling company Deutsche Brunnen AG. The crates are made of brown, white or green plastic and are designed to be stackable and strong. Reinforced with a top and a base plate of fibreglass laminate and plywood, the translucent, walk-in outdoor sculptures served as places of retreat and as information stands.2 Erected on four different sites around Münster, the crate houses coupled the aspects of user-friendly urban space and re-usability with the temporary character of the exhibition, which takes place every ten years.
Daniel Friedt
1 Cf. Winter/Hoerbelt, "Biography". Online at: http://winter-hoerbelt.de/about#tab-biographygl (last accessed: 18.5.2017).
2 Wolfgang Winter and Bertholt Hörbelt, "Kastenhäuser", in: Klaus Bußmann, Kasper König and Florian Matzner (eds.), Sculpture. Projects in Münster 1997, exhib. cat. Westfälisches Landesmuseum für Kunst und Kulturgeschichte, Münster, Ostfildern-Ruit 1997, pp. 456–461.
Location
Still existing / Public Collection
Removed
In the museum