Andrea Zittel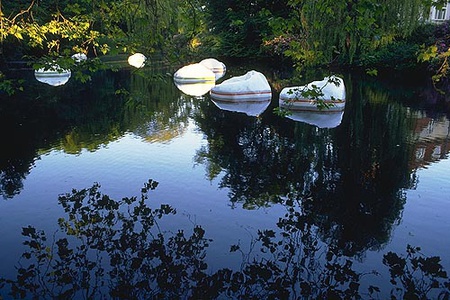 A–Z Deserted Islands
1997
Installation in public space
10 fibreglass islands
Location
Kanonengraben.
Temporary installation for the duration of Skulptur. Projekte in Münster 1997
Andrea Zittel
* 1965 in Escondido, California, USA
lives and works in Los Angeles, USA, and in Joshua Tree, California, USA
For her work A–Z Deserted Islands the US American artist Andrea Zittel floated ten islands made of fibreglass on Kanonengraben, a small stretch of water near Promenade (Aegidiischanze) and once part of Münster's historic fortifications. The irregularly shaped white forms were furnished with padded seats. The red-and-blue striped logo of the fictitious company A–Z printed along the outer edge of these prototypes was intended to signal the opportunity of a serially produced yet personalised object for individual use. Through their idyllic location on a small lake within an urban green belt these recreational boats, each set apart from the next, mirrored the intermittent human need for recuperation and social solitude. As such, Zittel's group of artificial miniature islands combined a sense of trusted familiarity with, paradoxically, the feeling harboured by many people that community spirit in contemporary urban life is on the wane or even entirely absent.1 As visitors were not given access to the work, these literally deserted islands served as an allegory for the utopian longing to "individually experience isolation in the middle of safe and comfortable surroundings."2
Daniel Friedt
1 Andrea Zittel, "A–Z Deserted Islands," in: Klaus Bußmann, Kasper König and Florian Matzner (eds.), Skulptur. Projekte in Münster 1997, exhib. cat. Westfälisches Landesmuseum für Kunst und Kulturgeschichte, Münster, Ostfildern-Ruit, 1997, pp. 470–473.
2 Cf. Westfälisches Landesmuseum für Kunst und Kulturgeschichte, Münster, "Andrea Zittel." Online at: https://www.lwl.org/skulptur-projekte-download/muenster/97/zittel/index.htm (last accessed: 15.6.2017).
Location
Still existing / Public Collection
Removed
In the museum