Heimo Zobernig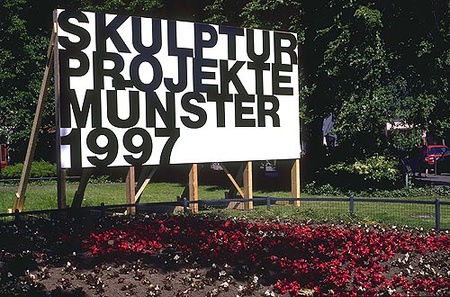 Untitled
1997
Multi-part work, various locations
Six billboards bearing the words "SKULPTUR PROJEKTE MÜNSTER 1997", erected beside the principal roads into the city at the point where they join Promenade: one each at Neutor, Mauritztor, Salzstraße, Windthorstraße, Ludgeriplatz and Aegidiitor
Stage in the atrium of the Landesmuseum, with chairs from the museum's lecture hall set out in front of it
Back wall of the stage with the words "SKULPTUR PROJEKTE MÜNSTER 1997": 400 x 800 cm; podium: 200 x 400 cm; temporary installation for the duration of the exhibition
Heimo Zobernig
* 1958 in Mauthen, Austria
lives and works in Vienna, Austria
Heimo Zobernig installed billboards beside the six largest access roads into the city at the point where they joined Promenadenring. The billboards carried the inscription "SKULPTUR PROJEKTE MÜNSTER 1997" in the typeface Helvetica, printed in black on a white ground. Zobernig also created a stage in the Landesmuseum's atrium. The stage consisted of a podium, a rear wall carrying the inscription "SKULPTUR PROJEKTE MÜNSTER 1997" printed in white on black ground, and a stage roof with a lighting system. Chairs from the Landesmuseum's lecture hall were set out in front of the stage.
The juxtaposition of textual and visual representation produced a "logo-like" image-text, whose economic utility and practical value can be categorised as public relations.1 The billboards on Promenadenring each referred to the rear wall of the stage in the museum – their colour-reversed counterpart – and vice versa, in what may be interpreted as a formal indication of the reciprocal suspension of reference/announcement and performance/presence.2 By establishing a network of references in which the sculptural project oscillated between pure sign(ifying) function and artistic presence Zobernig gave visible form to the abstract mechanism connecting artwork, institution, public and the addressed viewer.
Ferdinand Uptmoor
1 Christian Höller, "Public Relations", in: Klaus Bußmann, Kasper König and Florian Matzner (eds.), Sculpture. Projects in Münster 1997, exhib. cat. Westfälisches Landesmuseum für Kunst und Kulturgeschichte, Münster, Ostfildern-Ruit, 1997, pp. 476–478, here p. 477.
2 Ibid.
Location
Still existing / Public Collection
Removed
In the museum