Eulàlia Valldosera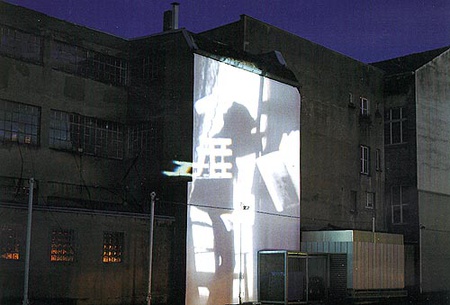 Twilight Zone / Zona en Penombra
1997
Two-part light projection from four scanner projectors, two of which were equipped with gobos (graphical optical blackouts) created by the artist, and two were not, two mirrors, electronics, turntable, window display decoration such as furniture and shop window dummies, various packaging for cosmetic goods, string etc.
Location
Windows on the northeast-facing side of the former Kiffe Pavilion, Alter Steinweg 15/16, and the firewall opposite, Alter Steinweg 21; since 2009 the site has been redeveloped as the multi-storey car park Parkaus Alter Steinweg.
Temporary installation for the duration of Skulptur. Projekte in Münster 1997
Eulàlia Valldosera
* 1963 in Vilafranca del Penedés near Barcelona, Spain
lives and works in Barcelona
For Skulptur. Projekte in Münster 1997 Eulàlia Valldosera explored the cityscape of Münster after nightfall. In the northeast-facing shop windows of the former Kiffe Pavilion the Spanish artist created a two-part light installation in which she intermingled the shadows cast by real objects with overlayered images, projecting this composite illusion onto the firewall of a residential building opposite.1 In both shop windows the artist placed different objects of decoration in front of the projectors; in the window on the right she assembled furniture and parts of window dummies; in the one on the left she set up a turntable and different kinds of packaging for cosmetics. Mirrors in the window display space reflected the cast shadows through the windows onto the firewall opposite. There they were superimposed over projected gobo motifs that on three sections of the wall alternated between the toppling figure of a woman, falling furniture and other objects, and a burning house.
Originally built in 1955 for the car dealer Ernst Kiffe, as from 1982 the Kiffe Pavilion underwent a varied history of use at the service of the retail sector.2 Standing to the east of this modernist architecture was an older complex which after various redevelopments had left the corner looking increasingly rundown. So much so, that the artist experienced this space between the Kiffe Pavilion and the firewall as a "dead zone" like those found in cities everywhere.3 For Valldosera the transitional state of twilight generally altered perceptive qualities. With her play of diffuse light and shadow the artist reshaped this 'non-place' and animated passers-by to "perceive reality in all its changing aspects," both between light and shadow as well as between consumerism and urban change.4
Daniel Friedt
1 On the Kiffe Pavilion, cf. Sylvaine Hänsel, Stefan Rethfeld (eds.) Architekturführer Münster, Berlin, 2008. p. 113; on the light installation, cf. Eulàlia Valldosera, "Twilight Zone/Zona en Penombra", in: Klaus Bußmann, Kasper König and Florian Matzner (eds.), Skulptur. Projekte in Münster 1997, exhib. cat. Westfälisches Landesmuseum für Kunst und Kulturgeschichte, Münster, Ostfildern-Ruit, 1997, pp. 426–429.
2 The Kiffe Pavilion was build by Hans Walter Rüschenschmidt.
3 Valldosera, 1997, p. 428.
4 Ibid.
Location
Still existing / Public Collection
Removed
In the museum