Jorge Pardo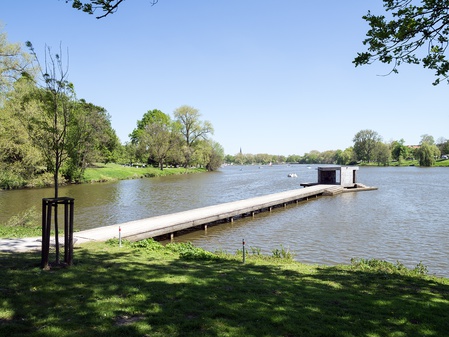 Pier
1997
Skulptur. Projekte in Münster 1997
Lakeside pier constructed from Californian redwood
Length of the pier approx. 48 m, width of the deck at the end of the pier approx. 10 m, height of the pavilion 2.54 m
Location
Western shore of the Aasee, south of Annette-Allee, permanent installation
Owner
City of Münster
Jorge Pardo
* 1963 in Havanna, Cuba
lives and works in Los Angeles, USA
Jorge Pardo's pier consisting of wooden planks on the shore of the Aasee stretches more than 40 metres from a bay out across the water.1 Pardo's artistic productions are frequently located at the interface between sculpture, architecture, and design, their combination of functionality and aesthetics evoking comparisons to Bauhaus.2 The artist however, rather than pursuing any utopian or rational dogma, merges creativity with functionality, in that the objects' status3 and the way in which they are perceived become negotiable: a book is a book, but in a similar manner to a kitchen unit, may also be sculptural; a house is habitable, it can be entered, but nevertheless it stages its own environment. Likewise the pier in Münster can be accessed. Not only does it inscribe itself into its surroundings, it is also a place of leisure, to pause at, and one for contemplation. Its minimalist design is reminiscent of Japanese garden architecture. The long walk across the pier invites us to take our time, savour the landscape, linger on the deck and enjoy the view across the water and towards the city. Originally the opportunity of smoking a cigarette there further increased aspects of contemplation.4 The view from the pavilion offers diverse vistas of the surrounding area, the pier and the artificial lake becoming open and negotiable elements of the environment.

Stefanie Raupach
1 Klaus Bußmann, Kasper König, and Florian Matzer (eds.), Skulptur. Projekte in Münster 1997, exhib. cat.: Westfälisches Landesmuseum für Kunst und Kulturgeschichte, Münster, Ostfildern-Ruit 1997, 312-315.
2 Doris Krystof, Pardo, in, vor, über dem Museum. In: Doris Krystof (ed.), Jorge Pardo, exhib. cat.: K21 Kunstsammlung Nordrhein-Westfalen, Düsseldorf 2009, 5.
3 Liam Gillick, Jorge Pardo, it is it, is it not. Reclaiming contingent space. In: Jorge Pardo, exhib. cat.: Haunch of Venison, Zürich 2005, 8.
4 Originally there was a cigarette vending machine on one of the pavilion's walls. However, due to maintenance problems it had to be removed.
Location
Still existing / Public Collection
Removed
In the museum