Kim Adams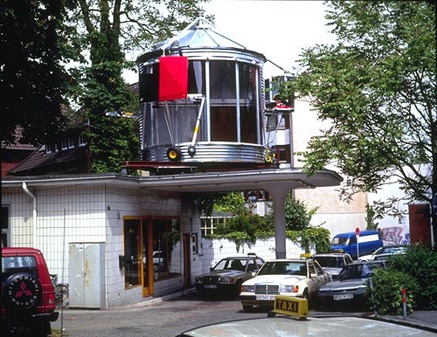 Auto Office Haus [Auto Office House]
1997
Multi-part installation made of various materials: steel bin (grain silo), car hoods and trunks, coloured aluminium sheets, steering wheels, tires, a lawn mower, plastic roofing, panoramic glass window, tractor driving seat, fluorescent lighting (among others)
Dimensions of steel bin: height 547 cm, diameter 671 cm
Location
Aegidiistraße 45, on the roof of a disused petrol station. Up until 1997 it housed the dispatch office of a taxi firm. Today the building is used as a café.
The work was first installed for the duration of Skulptur. Projekte in Münster 1997. Afterwards it remained in Münster. When on 28 July 2014 a storm blew down an ash tree onto Auto Office Haus, badly damaging it, the work that had been initially conceived as a temporary installation was finally dismantled in November 2016.1
Kim Adams
* 1951 in Edmonton, Canada
lives and works in Toronto, Canada, and Grand Valley, Canada
Kim Adams erected a multi-component installation on the flat roof of a former petrol station from the 1950s. The work consisted of a metal grain silo covered with a conical roof onto which car tires, a lawn mower and various elements of a car were mounted, held by three swivel arms. A section of the round metal wall was replaced with a panoramic glass window through which on the inside two children's bicycles were visible. About this the artist commented: "This rooftop sculpture is a housing sculpture project. […] Inside the grain bin house there will be car furniture made from car interiors, such as car seats with a car-hood table. There will be a light in the interior of the house. Basically these elements form a kind of 'House Car Office Home'".2 Adams associated his work with a merry-go-round – he had originally even had the idea of using a motor to make the round structure rotate.3
Adams is well known for his large-scale sculptural and architectural installations made of prefabricated industrial elements, especially car parts.4 His approach ideally matched to the historic function of the chosen site. As a petrol station or the office of a taxi company the building stood inevitably as a hub for the bundled themes of technology, progress and mobility. Adams's Auto Office Haus addressed the agitated and crisscrossed patterns of people's lives in modern society; as such, every form of home defines a base from which we can productively and purposefully advance in the volatile flow of traffic of our everyday reality.
Daniel Friedt
1 Martin Kalitschke, "Unwetterschaden: Künstler kommt extra aus Kanada", in: Westfälische Nachrichten, 29.8.2014. Online: www.wn.de/Muenster/1702242-Zerstoerte-Installation-auf-dem-Cafe-Gasolin-Unwetterschaden-Kuenstler-kommt-extra-aus-Kanada (last consulted: 4.1.2017); anon., "Skulptur-Projekt deinstalliert", in: Westfälische Nachrichten, 11.11.2016. Online: www.wn.de/Muenster/Kultur/2597230-Auto-Office-House-von-Kim-Adam-auf-dem-Gasolin-abgebaut-Skulptur-Projekt-deinstalliert (last consulted: 4.1.2017).
2 Cf. statement by Kim Adams, "Auto Office Haus – Mehrteilige Installation", 27.8.1996. Online: http://www.lwl.org/skulptur-projekte-download/muenster/97/adams/index.htm → Konzept (last consulted: 4.1.2017).
3 Ibid.
4 Cf. Nancy Campbell, "Kim Adams – Auto Office Haus", in: Klaus Bußmann, Kasper König and Florian Matzner (eds.), Skulptur. Projekte in Münster 1997, exhib. cat. Westfälisches Landesmuseum für Kunst und Kulturgeschichte, Münster, Ostfildern-Ruit, 1997, pp. 46–51.
Location
Still existing / Public Collection
Removed
In the museum