Georg Baselitz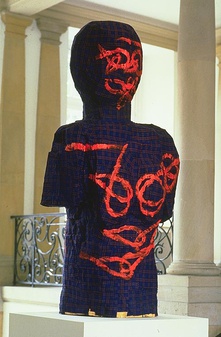 Ding mit Asien [Thing with Asia]
1995
Sculpture
Wood, blue and red checked cloth, red oil paint
200 x 100 x 70 cm
Location
Vestibule in Erbdrostenhof, Salzstraße 38.
Temporary installation for the duration of Skulptur. Projekte in Münster 1997
Owner
Kunstsammlung Nordrhein-Westfalen, Düsseldorf
Georg Baselitz
* 1938 in Deutschbaselitz, Germany
lives and works in Salzburg, Austria
In the entrance hall of the baroque Erbdrostenhof Georg Baselitz presented his wooden sculpture Ding mit Asien from 1995. Standing on a plinth, the figure represents a roughly hewn female torso without arms and draped in a piece of blue and red checked cloth. Gestural brushstrokes accentuate various parts of the body. Since 1979 Baselitz has been working in sculpture as well as painting.1 In both media his figures play with their abstractly expressive appearances beyond symmetry and regularity. His sculpture's oversized bodies, heads and limbs can be recognised as figurative motifs. Through their crude treatment with chainsaw, axe and chisel they make formal reference to non-European art and cultural objects.2
The artist created a striking contrast by installing the sculpture Ding mit Asien in the baroque palace, originally built by Johann Conrad Schlaun and later restored in the aftermath of World War II. As he considers his art to be shaped by German society during and after the war, Baselitz chose a building in Münster whose history would illustrate the development from the period of baroque splendour to the total devastation wreaked by war and the phase of arduous post-war reconstruction.
Daniel Friedt
1 Cf. Karola Kraus (ed.), Georg Baselitz. Skulpturen, catalogue of works, Baden-Baden, Staatliche Kunsthalle and Berlin, Distanz Verlag, 2009 .
2 Baselitz has been collecting east and central African sculptures, among them cloth dolls, heads and large wooden figures of the Bwe/Bembe, as well as works by the Teke; see Peter Stepan (ed.), Baselitz. Die Afrika-Sammlung, exhib. cat. K20 Kunstsammlung Nordrhein-Westfalen (et al.), Munich (et al.), 2003.
Location
Still existing / Public Collection
Removed
In the museum