Alighiero Boetti / (auch als Alighiero e Boetti)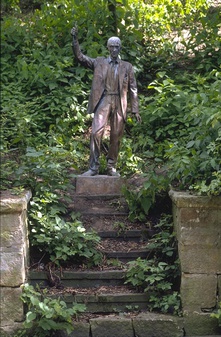 Mi fuma il cervello, Autoritratto [My Brain is Smoking, Self-portrait]
1993
Sculpture, bronze, hydraulic and electrical device, height: 170 cm (fourth cast, edition of seven)
Location
On Aauferweg between Stadtgraben and Bispinghof.
Temporary installation during Skulptur. Projekte in Münster 1997
Alighiero Boetti / (auch als Alighiero e Boetti)
* 1940 in Turin, Italy
† 1994 in Rome, Italy
The bronze self-portrait Mi fuma il cervello by the Italian conceptual artist Alighiero Boetti, who died just one year after its completion, was exhibited at Skulptur. Projekte in Münster 1997 in the idyllic setting of Aa river embankment. The 1.7 metre high sculpture, whose position among the greenery called to mind the tradition of European garden and park sculpture, showed the gaunt figure of the artist in a loose-fitting suit and with dishevelled hair. Standing in contrapposto and wearing an expression of stoic determination, he holds a hosepipe in his raised right hand. When the internal hydraulic pump was switched on, intermittent jets of water shot out of the hose and fell onto the sculpture's head, which was "heated by means of electrical resistors"1. On contact, the water evaporated into a hissing cloud of steam.
This cloud of steam thereby symbolised the sometimes fraught and passionate processes of artistic creativity. At the same time, however, the self-portrait – half classical hero, half tragic figure – may be also understood as an ironic comment on the role of the artist and the activity of making art. The seven casts of the sculpture are today housed in various international collections.
Ronja Primke
1 Jean-Christophe Ammann (ed.), Alighiero Boetti, 1965–1994, exh. cat.: Museum Moderner Kunst Stiftung Ludwig Wien, Milan 1997, p. 192, quoted in: Klaus Bußmann, Kasper König and Florian Matzner (eds.), Skulptur. Projekte in Münster 1997, exh. cat.: Westfälisches Landesmuseum für Kunst und Kulturgeschichte, Münster, Cologne 1997, p. 71.
Location
Still existing / Public Collection
Removed
In the museum