Peter Fischli / David Weiss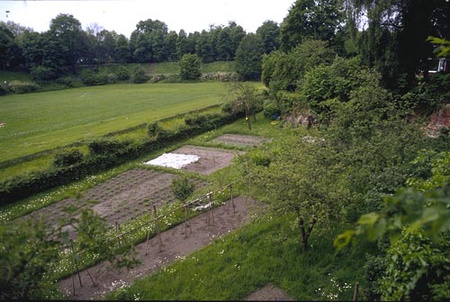 Garten [Garden]
1996–1997
Garden project
Location
Private garden at Stadtgraben 34, between Westerholtscher Wiese and the Lipper-Mauer wall, beside the Aa river.
Temporary installation from October 1996 to the end of Skulptur. Projekte in Münster 1997
Peter Fischli / David Weiss
* 1952 in Zurich, Switzerland
lives and works in Zurich
* 1946 in Zurich, Switzerland
† 2012 in Zurich, Switzerland
For their second contribution to Skulptur Projekte, the Swiss artist duo decided to make a private sphere accessible to the public. The work Garten envisaged the redesign of a small orchard on a piece of land on Stadtgraben. As from October 1996 Fischli/Weiss pegged out the approximate positions of the beds and in December dug them over with a team of helpers.1 In tune with their aesthetic vision for the project, the artists designed a mixture of cottage and kitchen garden, with beds of flowers and vegetables, a compost heap, seats and a tool shed. A small wooden bridge over the narrow River Aa, which runs along the south side of the garden, provided access to this garden idyll.
For the artists, the position of the garden promised an intimate, private setting. The garden made no claim to be an artwork, but referenced the small-scale cultivation of vegetables and flowers that in cities is only available to certain individuals with their own garden. Fischli/Weiss presented their Garten as an idealised haven and a place for social gatherings and exchange. In 2016 Peter Fischli recreated Garten in a modified form for an exhibition at the Fondation Beyeler in Riehen/Basel.2
Daniel Friedt
1 The artists were assisted by employees of the City of Münster Parks Department and by young people from the "Umweltwerkstatt" initiative (an environmentalist action group for long-term unemployed young people, run by the Protestant parish of Münster-Hiltrup).
2 The garden was recreated in context of the exhibition Alexander Calder & Fischli/Weiss in behind the building of the Fondation Beyeler; Cf. Angelika Schoder, "Zwischen Kartoffeln und Rhabarber – Im Garten von Fischli Weiss". Online under: musermeku.org/2016/07/13/fischli-weiss-garten/ (last consulted: 14.3.2017).
Location
Still existing / Public Collection
Removed
In the museum
Other Participation
This artist also participated in: 1987