Douglas Gordon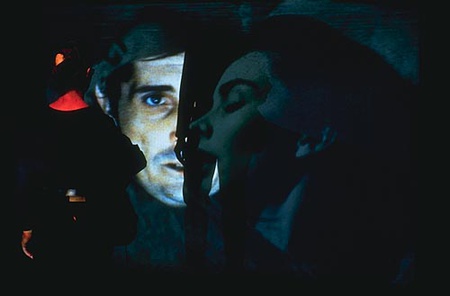 Between Darkness & Light (after William Blake)
1997
Video installation
Location
Former pedestrian underpass at Schlossplatz (then Hindenburgplatz) in Münster, installation for the duration of the exhibition Skulptur. Projekte in Münster 1997
Douglas Gordon
* 1966 in Glasgow, Great Britain
lives and works in Glasgow, Scotland, Berlin, Germany und New York, USA
In his video works Douglas Gordon frequently makes use of original films that he alters by means of slow motion, repetition, rewind or dissolve, thereby reinterpreting them. In his work Between Darkness & Light (after William Blake) Gordon simultaneously projected two film classics of US cinema, the horror film The Exorcist by William Friedkin (1973) and The Song of Bernadette by Henry King (1943), onto a free-standing transparent screen. Visible on both sides were cinematic double images in which scenes of demonic possession and visions of the Virgin Mary were narratively intertwined.
Yet the struggle between good and evil staged here did not stem from the dogmatic Christian faith in irreconcilable opposites. Instead, the work was a cinematic collage with which Gordon visualised the fluid nature of antagonistic forces. Likewise, the concept of "between" in the title suggested how good and evil, or light and darkness, cancel each other out. Here Gordon's own fundamental beliefs came close to the philosophy of life proposed by William Blake, who is specifically referenced in the title. In his book "The Marriage of Heaven and Hell" (1790–1793) Blake unfurled his vision of a rather monastically shaped, unified world order. Taking this as a cue, Gordon staged "a dialogue, in abstract, between two representations of opposing philosophical positions".1 The place the artist chose to screen the videos was the pedestrian underpass at the square now known as Schlossplatz. It seemed to him ideal to use a site associated with the idea of passing from one place to another, or in a metaphysical sense, of a conduit from one state to another.
Beate Pittnauer
1 Cf. Douglas Gordon, "Douglas Gordon (–) Between Darkness & Light (after William Blake)", in: Klaus Bußmann, Kasper König and Florian Matzner (eds.), Skulptur. Projekte in Münster 1997, exhib. cat. Westfälisches Landesmuseum für Kunst und Kulturgeschichte, Münster, Ostfildern-Ruit, 1997, p. 175.
Location
Still existing / Public Collection
Removed
In the museum