Guy Ben-Ner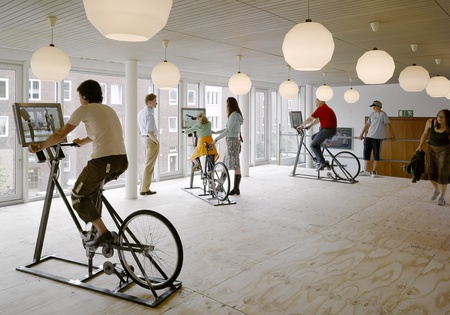 I'd give it to you if I could, but I borrowed it
2007
Installation
Three modified stationary bicycles fitted with flat-screen displays
Location
Münster-Aussenstadt tax office, Friedrich-Ebert-Strasse 46.
Temporary installation for the duration of skulptur projekte münster 07
Guy Ben-Ner
* 1969 in Ramat Gan, Israel
lives and works in Tel Aviv, Israel
The Israeli artist Guy Ben-Ner's project I'd give it to you if I could, but I borrowed it revolved around Münster's most prominent emblem – the bicycle. He installed three stationary bicycles in an extension of the Münster-Außenstadt tax office and attached monitors to the handlebars. By turning the pedals, visitors could start a film running on the screen, control the speed of the projection, and fast-forward or rewind the footage. In the video, Ben-Ner and his two children (who often feature in his films) were seen entering the old building of the LWL-Landesmuseum für Kunst und Kulturgeschichte. In an exhibition space with a view of the cathedral, they dismantled replicas of famous artworks that incorporate bicycle parts, including Pablo Picasso's Bull's Head (1942), Marcel Duchamp's Bicycle Wheel (1913), Jean Tinguely's Cyclograveur (1960) and Joseph Beuys' Zerstörte Batterie (1969). After reassembling the parts into a fully functional bicycle, they cycled around Münster, passing by several sculptures in a reference to Rodney Graham's film Photokinetoscope (2001).1
Ben-Ner's contribution was a humorous comment on mobility in the Westphalian bicycle capital, as well as on distinctions between outdoor public spaces and those inside museums or public authority buildings. According to the work's title, which quotes a line from Pink Floyd's hit song Bike (1967), he simply 'borrowed' well-known ready-mades. By transforming their parts into Münster's most effective means of transport, taking them out of the museum and back onto the street, Ben-Ner deconstructed the artistic character of what had originally been everyday objects and gave them back their functional value.2
Daniel Friedt
1 Guy Ben-Ner, "I'd give it to you if I could, but I borrowed it", in: Brigitte Franzen, Kasper König and Carina Plath (eds.), sculpture projects muenster 07, exhib. cat. LWL-Landesmuseum für Kunst und Kulturgeschichte, Münster, Cologne, 2007, p. 41.
2 Ibid.
Location
Still existing / Public Collection
Removed
In the museum