Michael Elmgreen / Ingar Dragset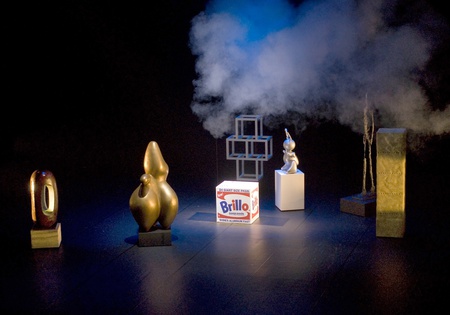 Drama Queens
2007
Stage play without actors
Size-adjusted copies of the following sculptures standing on mobile plinths: Walking Man (Alberto Giacometti, 1947), Elegy III (Barbara Hepworth, 1966), Rabbit (Jeff Koons, 1986), Four Cubes (Sol LeWitt, 1971), Untitled (Granite) (Ulrich Rückriem, 1984), Cloud Shepherd (Jean Arp, 1953) and Brillo Box (Andy Warhol, 1964)
Location
Four performances at the opening weekend of skulptur projekte münster 07 in the Städtische Bühnen Münster / Grosses Haus (Münster City Theatre, main stage)
From July to October 2007: presentation of a video recording of the performance in the foyer of the LWL-Landesmuseum für Kunst und Kulturgeschichte, Münster
Michael Elmgreen / Ingar Dragset
* 1961 in Copenhagen, Denmark
* 1969 in Trondheim, Norway
lives and works in London, Great Britain, and in Berlin, Germany
For skulptur projekte münster 07 the Danish-Norwegian artist duo Michael Elmgreen und Ingar Dragset, collaborating with Tim Etchells, conceived the play Drama Queens, which premiered in June 2007 in Münster City Theatre. However, the play's protagonists were not actors but seven canonical 20th-century sculptures.1 Removed entirely from their respective contexts, the artworks began to chat and argue in imagined dialogues. "You might wonder what kinds of conversation the sculptures would have when no one is left in the museum"2, is how Elmgreen and Dragset described their initial idea in an interview about the project. Each figure had a character of its own, personifying ideas and aesthetic concepts of the different art movements from early modernism to post-modernism. The artist duo staged these hypothetical relationships between the sculptures and their various clashes as an entertaining psychodrama. Using mobile plinths Elmgreen and Dragset set the inherently inert sculptures in motion, enabling them to move around and rotate on stage. The gaudy light concept heightened the comic situation of sculptures brought to life and illustrated the absurd spectacale of the art business.
Ronja Primke
1"Michael Elmgreen & Ingar Dragset, Drama Queens", in: Brigitte Franzen, Kasper König and Carina Plath (eds.), sculpture projects muenster 07, exhib. cat. LWL-Landesmuseum für Kunst und Kulturgeschichte, Münster, Cologne, 2007, p. 75–81, here p. 75.
2Michael Elmgreen and Ingar Dragset in an interview as part of the film documentation skulptur projekte 07. Die Filmdokumentation, 2007.
Location
Still existing / Public Collection
Removed
In the museum