Dominique Gonzalez-Foerster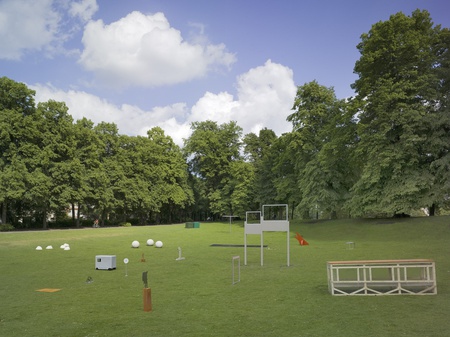 Roman de Münster [A Münster Novel]
2007
Installation
Sculptural ensemble with 34 objects, various materials
variable dimensions
Reproductions on a scale of 1:4 of the following works shown at successive exhibitions of Skulptur Projekte from 1977 to 2007:
Carl Andre, 97 Steel Line for Professor Landois, 1977
Richard Artschwager, Ohne Titel (Fahrradständermonument B) [Untitled (Bicycle Rack Monument B)], 1987
Michael Asher, Installation Münster (Caravan), 1977/1987/1997/2007
Alighiero Boetti, Mi fuma il cervello, Autoritratto [My Brain is Smoking, Self-portrait], 1997 (1993)
George Brecht, Three VOID-Stones, 1987
Daniel Buren, 4 Tore [4 Gateways], 1987
Robert Filliou, Permanent Creation – Tool Shed, 1987 (1984–87)
Peter Fischli / David Weiss, Haus [House], 1987
Katharina Fritsch, Madonna, 1987
Isa Genzken, ABC, 1987
Dan Graham, Oktogon für Münster, 1987
Raymond Hains, Ohne Titel [Untitled], 1997
Keith Haring, Red Dog for Landois, 1987
Thomas Hirschhorn, Skulptur-Sortier-Station [Sculpture Sorting Station], 1997
Huang Yong Ping, 100 Arme der Guanyin [100 Arms of Guanyin], 1997
Donald Judd, Ohne Titel [Untitled], 1977
Ilya Kabakov, "Blickst du hinauf und liest die Worte…" ["Looking Up. Reading the Words…"], 1997
Martin Kippenberger, Metro-Net. Subway Around the World, 1997
Jeff Koons, Der Kiepenkerl in Edelstahl [The Peddler in Steel], 1987
Ange Leccia, Zwei Fußballtore / Zwei Mähdrescher [Two Goals / Two Combine Harvesters], 1987
Sol LeWitt, Black Form (Dedicated to the Missing Jews), 1987
Richard Long, Stone Cairn, 1977
Deimantas Narkevičius, The Head, 2007
Claes Oldenburg, Giant Pool Balls, 1977
Nam June Paik, TV-Buddha für Enten [TV Buddha for Ducks], 1987
Jorge Pardo, Pier, 1997
Allen Ruppersberg, Die beste aller möglichen Welten [The Best of All Possible Worlds], 1997
Thomas Schütte, Kirschensäule [Cherry Column], 1987
Richard Serra, Trunk, J. Conrad Schlaun Recomposed, 1987
Rirkrit Tiravanija, Untitled (The Zoo Society), 1997
Rosemarie Trockel, Less Sauvage than Others, 2007
Lawrence Weiner, Skulptur Projekt Münster 1997, 1997
Franz West, Etude de Couleur [Colour Study], 1997 (1991)
Andrea Zittel, A–Z Deserted Islands, 1997
Location
Low ground below the Promenade at Kanonengraben, Aegidiitor.
Temporary installation for the duration of the exhibition skulptur projekte münster 07
Dominique Gonzalez-Foerster
* 1965 in Strasbourg, France
lives and works in Paris, France, and Rio de Janeiro, Brazil
In her exhibit Dominique Gonzalez-Foerster addressed the ways in which earlier editions of Skulptur Projekte were experienced and reflected upon, as well as exploring associated views of the present and the future. Inspired by her visits in 1987 and 1997 she considered the question of how the city of Münster has dealt with its own identity, its reconstruction after World War II and the impact of art in urban space.
With her installation Roman de Münster consisting of 34 miniature objects the French artist examined the exhibition series Skulptur Projekte in its entirety but without adding a single object of her own. Gonzalez-Foerster chose certain works by other artists who had contributed to Skulptur Projekte from 1977 to 2007 and had them reproduced on a scale of 1:4. The miniature reproductions were installed without chronological order but in reference to their (former) placement on the meadow alongside the Promenade by Kanonengraben.1 Because of its form and topographical characteristics the overgrown hollow ground brought to mind a "mathematical graph" or "natural amphitheatre" that served as a stage for the sculptural protagonists of the last few decades.2 Visitors were able to stroll between the miniatures and thereby undertake a journey through the sculpture projects.
Similar to a novel where time is dissolved through several parallel storylines, Dominique Gonzalez-Foerster created a kind of theme park which drew attention to the history of sculpture projects while at the same time allowing it to be experienced as a narrative entity.
Georgios Paroglou
1 Cf. Dominique Gonzalez-Foerster, in: Brigitte Franzen, Kasper König and Carina Plath (eds.), sculpture projects muenster 07, exhib. cat. LWL-Landesmuseum für Kunst und Kulturgeschichte, Münster, Cologne, 2007, p. 105.
2 Ibid.
Location
Still existing / Public Collection
Removed
In the museum