Valérie Jouve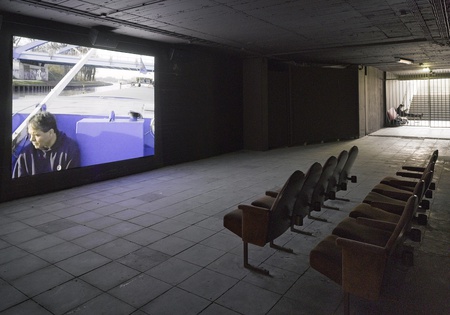 Münsterlands
2007
Installation
Film projection, 35 mm film transferred onto video, accompanied by an audiovisual composition
Length: 43:00 minutes
Wall installation about 24 metres in length with shots of the surrounding area, film stills and soundtrack
Location
Installed in the former pedestrian underpass on Schlossplatz (formerly Hindenburgplatz) for the duration of the exhibition skulptur projekte münster 07
Valérie Jouve
* 1964 in Saint-Étienne, France
lives and works in Paris, France
Valérie Jouve's works in photography and film address the subject of people and their urban environment. With her anthropologically trained gaze she generally combines portraits and topographic views to create condensed images, by staging figures in often exaggerated poses in front of city backdrops. In her multimedia project Münsterlands, installed in a pedestrian underpass on Schlossplatz as a film, image and sound composition, she explored the impact of specific sites on the human body and vice versa.
Jouve's filmed surveys focused predominantly on Münster and its environs. It was recorded from the perspective of strangers approaching the city from different directions. The journey was undertaken on foot, by train and by boat, leading from the periphery to the centre, to the site of the artistic installation. Jouve consciously avoided narration, cartographic legibility and any touristic perception of the city and its landmarks. Using experimental cinematography the artist shot footage of the urban surroundings from the viewpoint of these protagonists, thereby conveying a multilayered experience of time and space. In conjunction with the photographs, that were visible only in semi-darkness and accompanied by recordings of a whispering voice, the film projection created a space of various levels of sensorial perception beyond rational understanding.1
Beate Pittnauer
1 Cf. Valérie Jouve, "Münsterlands", in: Brigitte Franzen, Kasper König and Carina Plath (eds.), sculpture projects muenster 07, exhib. cat. LWL-Landesmuseum für Kunst und Kulturgeschichte, Münster, Cologne, 2007, p. 123.
Location
Still existing / Public Collection
Removed
In the museum