Maria Pask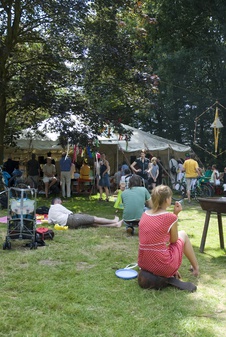 Beautiful City
2007
Participatory project in the form of a lecture series and its documentation in a white tent and a library containing books on subjects of religion, ethics and spirituality
Each weekend (mostly Sundays) from 17 June to 30 September 2007 lectures were held by the following speakers:
Sunday, 17 June 1 p.m. Dena Merriam
Saturday, 23 June 1 p.m. Rev. Tom Marfo
Sunday, 1 July 2 p.m. Edwin Kagin
Sunday, 8 July 2 p.m. Prof. Dr. Assaad Kattan
Sunday, 15 July 2 p.m. Winfried Kopps
Sunday, 22 July 2 p.m. Romel Regalado Bagares, Julian Struijk
Sunday, 29 July 2 p.m. Fernand Mich
Sunday, 5 August 2 p.m. Susanne Frieters
Sunday, 12 August 2 p.m. Lavinia Byrne
Sunday, 19 August 2 p.m. Dr. Peter Cave
Sunday, 26 August 2 p.m. Dosa Jhana
Sunday, 2 September 2 p.m. Minerva
Sunday, 9 September 2 p.m. Gam Klutier
Sunday, 16 September 2 p.m. Arumugam Paskaran
Sunday, 23 September 2 p.m. David James
On each of these dates the venue could be visited from 10 a.m. to 10 p.m.
Location
The meadow between Einsteinstraße and Schlossgraben in the northern section of Schlossgarten, close to the permanently installed works of George Brecht and Herman de Vries. Temporary installation for the duration of skulptur projekte münster 07
Maria Pask
* 1969 in Cardiff, Great Britain
lives and works in Amsterdam, Netherlands
Maria Pask's artistic practice revolves around projects involving the participation of different population groups, in which incremental processes and discourse extending beyond the actual work play an essential role. For this, the artist usually adopts working methods evolved in the 1960s and oriented towards forms espoused by alternative movements.1
For her project Beautiful City presented at skulptur projekte münster 07 Pask invited sixteen representatives of various denominations from all over the world to Münster. Each weekend a different guest lecturer spoke of her or his spiritual and religious outlook. In a white tent erected on the meadow north of the Schlossgarten the speakers reflected on questions previously formulated by the artist about how to communicate one's personal religious beliefs, about the challenges posed by other creeds and about peaceful co-existence between different religions. The discussions were open to friends, Münster residents and student groups to take part. Prior to each talk people could set up camp on the meadow around the main tent. A library installed in the tent also offered an opportunity to read about subjects relating to religion, ethics and spirituality.
Pask's project was inspired by the lyrics of a song performed in the Christian off-Broadway musical Godspell (1971) describing a "beautiful city" not built out of stones but out of dreams, ethical principles and spiritual visions.2 Pask chose this reference in allusion to the prize awarded to Münster in 2004 as "the most livable city", a place of encounter for diverse cultures, religions and alternative visions of life. With this she associated the utopian idea that visitors might enter into dialogue with individually lived religious persuasions, debate current issues and, on the basis of their own beliefs, overcome possible cultural prejudices.
Daniel Friedt
Location
Still existing / Public Collection
Removed
In the museum