Andreas Siekmann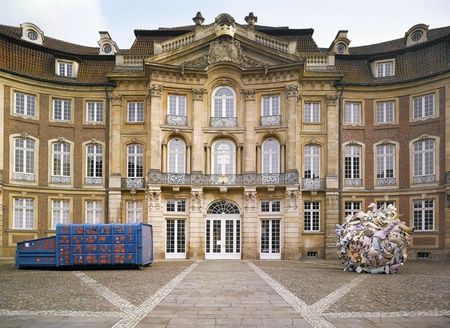 Trickle down. Der öffentliche Raum im Zeitalter seiner Privatisierung [Trickle down. Public Space in the Era of its Privatisation]
2007
Installation with polychromatically painted sculpture and press container
Location
Temporary installation in the main courtyard of Erbdrostenhof, Salzstrasse 38
Andreas Siekmann
* 1961 in Hamm, Germany
lives and works in Berlin, Germany
In 2007, fragments of bears, swans and cows in light blue, pink, pale yellow and gentle green jutted out of a large tangled ball standing on the forecourt of Münster's baroque City Palace built by Johann Conrad Schlaun; its dimensions brought to mind Claes Oldenburg's Giant Pool Balls near the Aasee. Opposite the large sphere stood a press container that in this setting looked "like a guillotine after the execution".1 Precisely those animals that had been "recycled" inside the container were to be found printed in radiant orange on its outer surface. They showed the serially produced plastic figures that since the 1990s have been sold as "objects" to be decorated by artists or local residents, or purchased by businesses as advertising space. Whether the bear in Berlin or the cow in Zurich, urban marketing strategies have brought these mascots to our city centres.
Compressed into a ball, Siekmann's animals played at the notion of so-called Horse and Sparrow economics or the Trickle-Down effect as formulated by Bernard de Mandeville in the early 18th century. He claimed that the affluence of a small social elite will gradually trickle down and have positive impacts on the wellbeing of the poorer classes. Or to stay with the horse metaphor, some of its dropped dung will occasionally bring benefit to the poor as foraged scraps of manure. Similar to the tradition of seeking a comprehensible sign system during the economic crisis of the 1920s, with the press container and the squashed-up mascots installed on the representative "Cour d'honneur" Siekmann invented a vivid image for these issues.2
Anne-Lena Treese
1 Andreas Siekmann, "Trickle Down. Der öffentliche Raum im Zeitalter seiner Privatisierung (Public Space in the Era of its Privatisation)", in: Brigitte Franzen, Kasper König and Carina Plath (eds.), sculpture projects muenster 07, exhib. cat. LWL-Landesmuseum für Kunst und Kulturgeschichte, Münster, Cologne, 2007, p. 232.
2 Stephanie Szepanek in conversation with Andreas Siekmann, in: Westfälisches Landesmuseum für Kunst und Kulturgeschichte, Münster, und Kunstakademie Münster (eds.), skulptur projekte münster 07. Vorspann, Cologne, 2007, pp. 114–125.
Location
Still existing / Public Collection
Removed
In the museum