Martha Rosler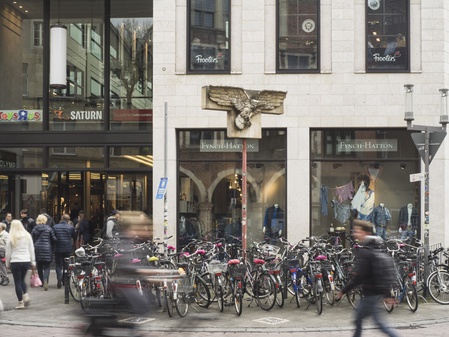 Unsettling the Fragments (Eagle)
2007
True-to-scale reproduction made from Polyethylene terephthalate (PET), installed on a pole
120 x 180 x 50 cm, height of pole 3 m
Location
Corner of Rothenburg and Königsstraße, in front of the entrance to Münster Arkaden shopping centre, permanent installation
Owner
LWL-Museum für Kunst und Kultur, Münster
Acquired with the financial support of the Friends of the Museum, 2007
The work was temporarily deinstalled for restoration in spring 2017.
The piece was reinstalled at its former location on April 16, 2018.
Martha Rosler
* 1943 in New York, USA
lebt und arbeitet in New York
A swooping stone eagle in front of the Münster Arkaden greets visitors to the large, centrally located shopping centre. In 2007 Martha Rosler placed this copy of an emblem on a pole there, the original of which still graces the façade of the local Luftwaffentransportkommando [air force transport command] of the Bundeswehr [German armed forces], formerly the Wehrmacht, in Münster. The building was constructed in 1935 during the Nazi era by the architect Ernst Sagebiel; following the end of the war, the swastika symbol was chiselled away from the eagle's claws.
During skulptur projekte münster 07, the American conceptual artist located several symbols, the result of intensive local research, around Münster that reinvoked the past.1 In addition to the stone eagle, the installation Unsettling the Fragments included two further elements: for the duration of the exhibition, a bamboo tunnel, similar to the ones growing in the botanical gardens, led visitors from the choir of the St. Lamberti church to the city library, and copies of the three iron cages used in the 16th century to display the tortured bodies of the so-called Anabaptists were placed in front of the city library. The original cages hang from St. Lamberti's spire.2 As proxies for past power relations, political ideologies and social developments, Rosler recontextualizes these reproductions, drawing our attention to the past that is stored in them, whilst at the same time also highlighting continuity in her choice of locations and objects. The eagle has been the catalyst for discussions around the Münster Arkaden's architecture, which is stylistically reminiscent of buildings from the Nazi era, whilst also drawing attention to a current situation: the frequent involvement of the headquarters of the German armed forces, which are still home to the original eagle, in international operations. This enables Rosler to draw our attention to contradictions in the contemporary cityscape as well as our attitude to the city and its history, raising questions about both erased and still visible traces of the past.

Sophia Trollmann
1 Martha Rosler, Martha Rosler – Unsettling the Fragments, In: Brigitte Franzen, Kasper König, and Carina Plath (eds.), skulptur projekte münster 07, exhib. cat.: LWL-Landesmuseum für Kunst und Kulturgeschichte, Münster, Cologne 2007, 202–213.
2 In his contribution Three Will-o'-the-Wisps for Skulptur Projekte in Münster 1987, Lothar Baumgarten likewise makes reference to the Anabaptists, by installing lights in the iron cages hanging from the church spire.
Location
Still existing / Public Collection
Removed
In the museum