Hermann Pitz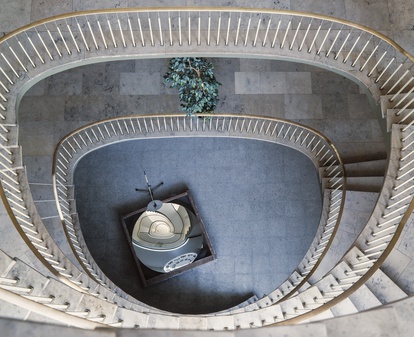 Uhr im Treppenhaus [Clock in Stairwell]
1987
Indoor installation with a clock with two concentric dials, metal stand, parabolic mirror (diameter 160 cm, depth 23 cm), wooden frame
Location
Basement level of the stairwell in the Landesstraßenbauamt (regional ministry of road works) North Rhine-Westphalia, Hörsterplatz 2.
Temporary installation for the duration of Skulptur Projekte in Münster 1987
Hermann Pitz
* 1956 in Oldenburg, Germany
lives and works in Munich, Germany
The concept artist and photographer Hermann Pitz conceived an unpretentious installation for the austerely designed stairwell in the regional ministry of road works. A convex mirror magnified and reflected a clock designed by the artist that was mounted on a metal stand and consisted of two interlinked clock faces. A downward glance over the handrail of the stairwell sufficed to read the time.
For everyday working life in the ministry the installation was of practical use, while also allowing the work of art to be viewed during the usual office opening hours. With this installation Pitz highlighted the routine procedures and life-defining "flow of time"1 in Münster as a bureaucratic city. The artist saw a direct reference to the site in its proximity to the prison: from the window in the stairwell it was possible to see the clock in the tower of the prison's neo-gothic church.2
Daniel Friedt
1 Hermann Pitz, "Uhr im Treppenhaus", in: Klaus Bußmann and Kasper König (eds.), Skulptur Projekte in Münster 1987, exhib. cat. Westfälisches Landesmuseum für Kunst und Kulturgeschichte, Münster, Cologne, 1987, pp. 222.
2 Georg Jappe, Skulptur Projekte in Münster 1987. Rundgang, Münster, 1987, p. 123.
Location
Still existing / Public Collection
Removed
In the museum
Other Participation
This artist also participated in: 1997