Hermann Pitz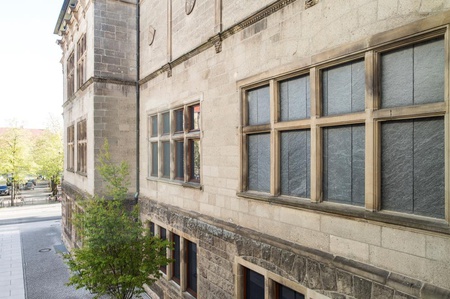 Innen, Aussen [Inside, Outside]
1997
Installation in two parts
Part 1: Slab of mica schist (Maggia granite)
Part 2: removed blind window, horizontal repro camera type "Holux-Perfecta 80/100", 16 stage spotlights
Location
Historic building of the LWL-Museum für Kunst und Kultur, Münster, installation in the interior and on the western façade on the first floor.
Today, part 1 of the installation titled Aussen is still in the same position on the outer façade of the historic section of the museum. Part 2, titled Innen, is on permanent loan to the museum but currently not on display.
Owners
Innen: Kunststiftung NRW
Aussen: LWL-Museum für Kunst und Kultur, Münster
Hermann Pitz
* 1956 in Oldenburg, Germany
lives and works in Munich, Germany
In 1997 Hermann Pitz installed his work Innen, Aussen on the inside and outside of the historic section of the Westfälisches Landesmuseum für Kunst und Kulturgeschichte. On the first floor of the western façade he clad eight blind windows with sheets of mica schist. Inside the museum, directly behind the blind windows, he set up a scenario using a wooden frame, an enormous repro camera and 16 stage spotlights.
The windows were blocked up in 1997 in the course of restoration work on the building's historic section to create more usable wall space inside the museum. This modified architectural setting offered the site-specific context for Pitz's work. With his choice of materials Pitz forged a link between the historic building and the immediately adjacent extension from the 1970s whose façade was clad with sheets of mica schist as well. On the inside the artist echoed the building alterations by installing the original window frame that had been removed. In the otherwise unlit museum space, the theatre spotlights and the camera incorporated it into a mise-en-scène.
With Innen, Aussen Pitz was focusing attention on the displacement of real public spaces by virtual environments. The recycled window frame became an analogue symbol of the world of technology with its synthetic, colourful illumination.
Daniel Friedt
Location
Still existing / Public Collection
Removed
In the museum
Other Participation
This artist also participated in: 1987