Ulrich Rückriem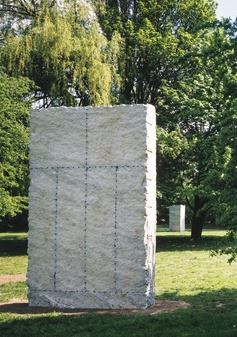 Finnischer Granit gespalten [Finnish granite, split]
1987
Three sculptures in Finnish granite
One upright rectangular block: 351 x 234 x 50 cm
Two square steles: 220 x 110 x 110 cm
Location
Northern meadows by Aasee lake, east of Kardinal-von-Galen-Ring.
Temporary installation for the duration of Skulptur Projekte in Münster 1987
Ulrich Rückriem
* 1938 in Düsseldorf, Germany
lives and works in Cologne, Germany, and in Clonegal, Ireland
For his second participation in Skulptur Projekte in 1987 Ulrich Rückriem produced a work consisting of three split then reassembled monoliths. The blocks of Finnish granite clearly revealed the horizontal and vertical seams where they had been split, creating a proportional linear pattern lengthwise the sides. Rückriem arranged the stone blocks along an arbitrarily determined vista in the parkland by the shore of Aasee lake. Thus the upright rectangular block consisting of seven sections had its broad face turned towards the shore of the lake, optically closing the existing gap in the hedgerow.1 The two square steles, each consisting of nine fragments, clearly marked corner points in the landscape. As with other works by the artist, the stone blocks offered distinct evidence of various procedures undertaken in the stone quarry. Work process such as splitting, sawing, sanding and polishing remained visible. Structure was lent by the boreholes that resembled a row of beads strung along a hairline crack in the stone.
In his concept for this work in 1987 Rückriem refrained from a specific penetration of space of the kind he had formulated in his 1977 sculpture Dolomit zugeschnitten (Dolomite cut) conceived as an artistic counterpoint to the Petrikirche. Even the choice of a park as the work's location offered a different and expansive setting that was also close to nature. The artist gave each of the three blocks an autonomous position in the landscape without particular reference to given pathways. This orientation following axial rather than site-specific considerations also seemed to be echoed in the choice of material. Instead of the Westphalian Anröchte Stone that Rückriem had used for his 1977 project, here he cut the three geometric objects from grey Finnish granite, further accentuating their independence from any specific location.
Daniel Friedt
1 Friedrich Meschede, "In Situ", in: Klaus Bußmann and Kasper König (eds.), Skulptur Projekte in Münster 1987, exhib. cat. Westfälisches Landesmuseum für Kunst und Kulturgeschichte, Münster, Cologne, 1987, p. 228.
Location
Still existing / Public Collection
Removed
In the museum