Eva Meyer / Eran Schaerf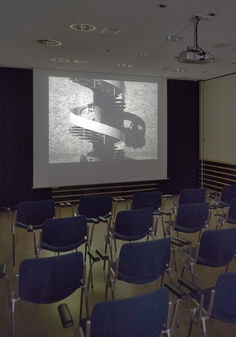 Sie könnte zu Ihnen gehören [She Could Belong to You]
2007
Film projection, mini DV, transferred onto DVD, colour and B/W, sound: Peter Steckroth, length: 37 minutes
Filmic montage from the artists' own footage and:
Alle Jahre wieder [Year After Year] (1967, dir. Ulrich Schamoni)
Desperate Journey (1942, dir. Raoul Walsh)
Zwischen Hoffen und Bangen [Between Hope and Trepidation] (2003, dir. Markus Schröder, with material from home movies from the period 1937–1939)
Location
Conference room in Hotel Mauritzhof, Eisenbahnstraße 17.
Temporary installation for the duration of skulptur projekte münster 07
Eva Meyer / Eran Schaerf
* 1950 in Freiburg, Germany
lives and works in Berlin, Germany
* 1962 in Tel Aviv, Israel
lives and works in Berlin, Germany
For the fourth edition of Skulptur Projekte the artist duo Eva Meyer and Eran Schaerf developed the film installation Sie könnte zu Ihnen gehören. In this film about Münster they created a montage of footage of their own and from other sources that had been shot in the city or featured Münster as a backdrop. Taking clips from Desperate Journey (1942) and Alle Jahre wieder (1967), as well as sequences from the documentary Zwischen Hoffen und Bangen (2003), they combined these with their own recordings from the present to create a new cinematographic space, thereby compiling a kind of filmic memory of the city. At its hub are the various recollections from different perspectives that Meyer and Schaerf repeatedly synchronised: in one pictorial thread viewers could discern a montage of evidently fictional moments and private documentary footage from the late 1930s. At the same time they witnessed the filmed stories from the perspectives of three female protagonists. In a further pictorial thread the artists mixed text passages spoken by the actress Carola Regnier with footage taken by a camera that accompanied Regnier making her way through the city theatre. Through the lack of synchronisation between the sound track and the video track Meyer and Schaerf sought to undermine sign systems and their conventional bonds between words, images and things. Different genres, periods, spaces, voices and experiences were condensed into a "new mode of writing", as Elfriede Jelinek1 described the singularity of Meyer and Schaerf's works.
Beate Pittnauer
1 Elfriede Jelinek, "Holding the rail. Eva Meyer and Eran Schaerf's films" , in: Brigitte Franzen, Kasper König and Carina Plath (eds.), sculpture projects muenster 07, exhib. cat. LWL-Landesmuseum für Kunst und Kulturgeschichte, Münster, Cologne, 2007, p. 156.
Location
Still existing / Public Collection
Removed
In the museum