Martin Boyce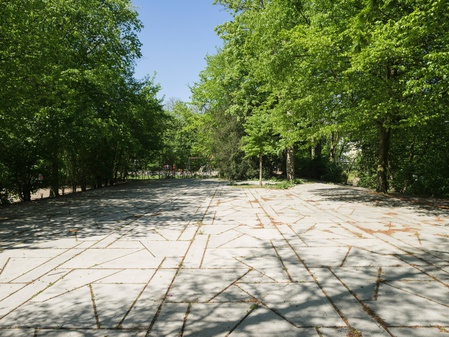 We are still and reflective
2007, skulptur projekte münster 07
Installation consisting of cast concrete slabs and brass strips inlaid in the ground
32.38 x 14.38 m
Location
Himmelreichallee, the former grounds of the zoo, north of the LBS building An der Gräfte, permanent installation
Owner
LWL-Museum für Kunst und Kultur, Münster
Acquired with the financial support of the Verein der Kaufmannschaft Münster (merchant league of Münster).
Martin Boyce
* 1967 in Hamilton, United Kingdom
lives and works in Berlin, Germany, and Glasgow, United Kingdom
In 2007 Martin Boyce sought out a slightly hidden, rather inconspicuous spot within the grounds of the former zoo for his ground-based installation comprising cast concrete panels. Thirteen different repeating areas produce a pattern. Letters consisting of brass strips inlaid between selected slabs form the sentence "We are silent and reflective."
Boyce relates his work to a group of sculptures by the French sculptors Jan and Joël Martel: at the Exposition internationale des Art décoratifs et industriels modernes in 1925, their four abstract concrete trees were the cause of some perplexity. For Boyce, these works, looking like a sculptural interpretation of a cubist painting, form: "a perfect collapse of architecture and nature."1 Using the Martel brothers' trees as a point of departure, he developed a lexicon of forms – triangles, parallelograms, and irregular geometrical forms – that he references in his work.
Boyce repeatedly engages with notions of landscape and form that govern the human lifeworld. He draws on familiar structures from his own surroundings, transcribing them in an artistic language. His almost rebellious reinterpretation of the concrete trees shifts poetically between art, architecture, and nature. Referring to the sculpture's site in the grounds of the former zoo, he describes it as: "A brutalist meditation on controlled landscape" and a "concrete jungle"2. However, two recesses in the concrete ground-based installation, each accommodating a tree, provide the sculpture with a "natural", vertical element. Exposed to seasons they continue to grow, adding a processual component to the work.
Boyce reduces the sculptural to a horizontal plane: from a distance there is nothing that is discernible as sculpture, it is only in close physical proximity that it can be perceived as such. For random passers-by the work could be interpreted merely as a foundation or as the pedestal of a sculpture sunk almost entirely into the ground, stepping on it transforming it into a stage.

Sophia Trollmann
1 Martin Boyce. In: Brigitte Franzen, Kasper König, and Carina Plath (eds.), skulptur projekte münster 2007, exhib. cat:. LWL-Landesmuseum für Kunst und Kulturgeschichte, Münster, Cologne 2007, 55.
2 Ibid.
Location
Still existing / Public Collection
Removed
In the museum