Daniel Buren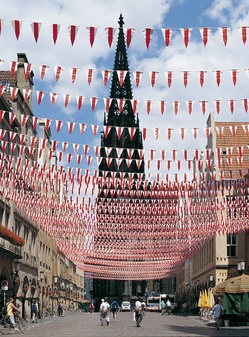 Travail in situ, Münster 1997 [Work on Site]
1997
Bunting: strings of plastic pennants
Location
Prinzipalmarkt. Temporary installation
Daniel Buren
* 1938 in Boulogne-Bilancourt, France
lives and works in Paris, France
Daniel Buren drew inspiration from Münster's carnival tradition for his contribution to Skulptur. Projekte in Münster 1997. He happened to come across a photograph of the city's carnival decorations, which gave him the idea of creating a temporary installation using red-and-white-striped bunting. He hung strings of plastic pennants from house to house across the street, all along the Prinzipalmarkt, in just the same way that bunting is displayed during the carnival. Fifteen years before this, Buren had created a similar installation using multi-coloured bunting as part of documenta 7 in Kassel, where his sound installation Wimpel-Text-Musik (1982) was presented on Friedrichsplatz near the Fridericianum.
Buren described his installation of striped bunting (total length: more than 3 km) fluttering in the wind as the creation of a "real space, a horizontal, colourful demarcation of the space at hand".1 Its specific connection to Münster's carnival decorations recalled an element of local history outside the festival season. Buren regarded this merging of event and memory as a palimpsest: free of any form of symbolism, his minimalistic intervention was intended to encourage conscious perception of this place.
The installation combined many characteristic strategies employed by Daniel Buren, whose practice centres on working in situ. By conceiving an artwork for a specific place, situation or time, he strives to achieve a unity of work and site. Unlike an artwork shown in a museum exhibition, the direct intervention of a site-specific work means that the place of the work's creation becomes identical with its place of presentation. Buren's approach opposes all claims to permanence, so when the exhibition ended, his Travail in situ, Münster 1997 also vanished from the cityscape.
Julius Lehmann
1 Daniel Buren, "Like a Palimpsest or The Metamorphosis of an Image", in: Klaus Bußmann, Kasper König and Florian Matzner (eds.), Skulptur. Projekte in Münster 1997, exhib. cat. Westfälisches Landesmuseum für Kunst und Kulturgeschichte, Münster, Ostfildern-Ruit, 1997, p. 80.
Location
Still existing / Public Collection
Removed
In the museum
Other Participation
This artist also participated in: 1987